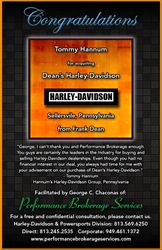 George always had time for me and helped us save a ton of money with your advice on our latest purchase of Deans Harley-Davidson. - Tom Hannum III
Irvine, California (PRWEB) February 10, 2015
On January 22, 2015 Hannum's Harley-Davidson dealership group will open Hannum's Harley-Davidson of Sellersville, formerly Dean's Harley-Davidson, which has been in business since 1947. The dealership will continue to operate in its current location at 3255 State Road. The new dealer principal, Tom Hannum III, also owns and operates Hannum's Harley-Davidson of Media, PA (established 1955) and Hannum's Harley-Davidson of Chadds Ford, PA (established 2000).
Hannum is currently renovating the 30,000 square foot facility, which can house over 300 new and used bikes, a state-of-the-art service center, rental department, retail shop, riding academy and a rider's lounge game room.
After the purchase, Tom Hannum III commented on the quality of service he received from Performance Brokerage Services stating, "I cannot thank George Chaconas and Performance Brokerage Services enough. You guys are certainly the leaders in the industry for buying and selling Harley-Davidson dealerships. Even though Performance Brokerage Services had no financial interest in our deal, George always had time for me and helped us save a ton of money with your advice on our latest purchase of Deans Harley-Davidson. Thank you!"
George Chaconas, the broker for this transaction and the head of the National Harley-Davidson and Powersports Division for Performance Brokerage Services, mentioned "It was a pleasure helping and advising Tommy Hannum of Hannum's Harley-Davidson in Pennsylvania on the acquisition of Dean's Harley-Davidson of Sellersville, PA to add to their portfolio."
About Performance Brokerage Services
Performance Brokerage Services, an auto dealership broker, specializes in professional intermediary services to buyers and sellers of automotive, Harley-Davidson and Powersports dealerships.
The company offers a different approach to the automotive brokerage industry by providing free dealership assessments, no upfront fees, no reimbursement of costs and is paid a success fee only. Performance Brokerage Services gets paid only after the client gets paid.
With over 23 years of experience, the company utilizes an extensive network of automotive accountants, attorneys, hundreds of registered buyers and enjoys longstanding relationships with most of the auto manufacturers. The intermediaries at Performance Brokerage Services have been involved in well over 400 transactions. Pledging loyal and unwavering representation, confidentiality is vigilantly protected during the selling process and after the transaction closes.
With corporate offices in Irvine, California located at 7545 Irvine Center Drive, three satellite offices in Utah, Florida and New Jersey, and a dedicated Harley-Davidson and Powersports division, Performance Brokerage Services provides its clients national exposure with local representation. For more information about the services offered by Performance Brokerage Services, visit http://performancebrokerageservices.com.