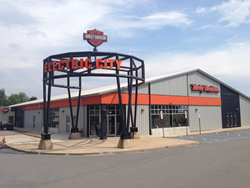 George and Performance Brokerage Services should be your first and only phone call if you want to buy or sell a Harley-Davidson dealership. They are the best in the business! - Thomas Noto
Irvine, California (PRWEB) July 16, 2014
Performance Brokerage Services, an automotive, Harley-Davidson and powersports dealership broker, announces the successful sales of Electric City Harley-Davidson and Noto's Harley-Davidson Shop in Scranton and Plains Township, Pennsylvania from Thomas and Robert Noto to Brad Hopkins and Dave Rommel of Rommel Harley-Davidson Group out of Annapolis, Maryland. This transaction was exclusively facilitated by George C. Chaconas of Performance Brokerage Services.
Dreaming of one day becoming a prominent Harley-Davidson dealer, Mr. Bob Noto founded the Noto family's first Harley-Davidson dealership in 1989. On May 14, 2005 his dream became a reality when his sons, Robert and Thomas, opened Electric City Harley-Davidson. Featuring a newly built, state of the art facility and boasting 25,000 square feet, the dealership has placed first in the district in vehicle sales ranking for the last 5 years. The dealership includes a 12,500 square foot service facility with top of the line service equipment and Harley-Davidson certified technicians. Electric City Harley-Davidson is located at 1534 Scranton Carbondale Highway in Scranton Pennsylvania.
Noto's Harley-Davidson Shop, sister store to Electric City Harley-Davidson, was opened in April 2002. Servicing the Wilkes-Barre region, Noto's Harley-Davidson Shop is a smaller operation located at 1022 Highway Route 315 in Plains Township, Pennsylvania.
After the sale of the dealerships, Mr. Thomas Noto stated, "I could not have asked for a better adviser in my corner. George Chaconas is an expert at his craft. He is timely, responsive, knowledgeable, and most importantly, honest and ethical. George and Performance Brokerage Services should be your first and only phone call if you want to buy or sell a Harley-Davidson dealership. They are the best in the business!"
With the purchase of Electric City Harley-Davidson and Noto's Harley-Davidson Shop, Rommel Harley-Davidson Group now consists of seven dealerships in Delaware, Maryland, North Carolina and Pennsylvania.
George C. Chaconas, the head of Performance Brokerage Services' National Harley-Davidson and Powersports Division and the representative for this transaction stated, "Tommy Noto contacted me about purchasing another Harley-Davidson dealership in Pennsylvania. After years of building relationship with the Noto family, I concluded that they are what people call 'the salt of the earth'. It brought me tremendous satisfaction to help allow Tommy and Robbie to expand their veterinary practice and pursue other business ventures."
About Performance Brokerage Services
Performance Brokerage Services, an auto dealership broker, specializes in professional intermediary services to buyers and sellers of automotive, Harley-Davidson and Powersports dealerships.
The company offers a different approach to the brokerage industry by providing free dealership assessments, no upfront fees, no reimbursement of any costs and is paid a success fee only. Performance Brokerage Services gets paid only after the client gets paid.
With over 23 years of experience, the company utilizes an extensive network of automotive accountants, attorneys, hundreds of registered buyers and enjoys longstanding relationships with most of the auto manufacturers. The mediators at Performance Brokerage Services have been involved in well over 400 transactions. Pledging loyal and unwavering representation, confidentiality is vigilantly protected during the selling process and after the transaction closes.
With corporate offices in Irvine, California located at 7545 Irvine Center Drive, and three satellite offices in Utah, Florida and New Jersey, and a dedicated Harley-Davidson and Powersports division, Performance Brokerage Services provides its clients national exposure with local representation. For more information about the services offered by Performance Brokerage Services, visit http://www.performancebrokerageservices.com.
You may also contact George C. Chaconas directly by sending an e-mail to george(at)performancebrokerageservices(dot)com.