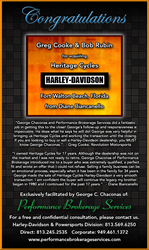 Performance Brokerage Services introduced me to a buyer who was extremely qualified, a perfect fit and wrote an offer that I could not refuse. - Diane Biancanello
Irvine, California (PRWEB) January 28, 2015
In 1980, John Pritchard opened the doors of Heritage Cycles Harley-Davidson in Fort Walton Beach, Florida and grew the dealership into a family owned, community involved dealership. After a battle with cancer, John passed away in 1997 leaving the dealership to his sister, Diane Biancanello. Diane continued her brother's legacy by becoming the dealer principal and running the day-to-day operations of Heritage Cycles Harley-Davidson along with her beloved family and employees for another 17 years. Diane and Heritage Cycles Harley-Davidson were the sponsors of the Emerald Coast, Florida Chapter Harley Owner's Group and held monthly HOG meetings at her dealership. Diane, her dealership and the Emerald Coast HOG were very active in the community, Toys for Tots, Okaloosa County Schools, the Emerald Coast Child Advocacy Fund and Children in Crisis to name a few.
George Chaconas, partner at Performance Brokerage Services, had been reaching out to Diane since 2007 to discuss selling her dealership. She was never truly interested, especially with the emotional ties she had to her dealership. In late 2014 when George brought Greg Cooke and Bob Rubin of Revolution Motorsports to meet with Diane and her husband Tony, her position changed. At the time, Greg and Bob owned three very successful Harley-Davidson dealerships – Harley-Davidson of Cool Springs in Franklin, Tennessee, New Orleans Harley-Davidson in Metairie, Louisiana and Smokin' Harley-Davidson in Winston-Salem, North Carolina - and were very interested in acquiring Heritage Cycles Harley-Davidson as it would further expand their footprint in the Southeast.
Greg and Bob spent time discussing their business model, experience and philosophy with Diane and ultimately made her an offer she could not refuse. Although Diane was not ready to retire and was very emotionally tied to the business, she wanted her brother's legacy to continue to grow and thrive beyond where she felt she could take it. After meeting Greg and Bob, she knew they were the perfect fit to take Heritage Harley-Davidson to the next level. The dealership will continue business as Emerald Coast Harley-Davidson located at 788 Beal Parkway Northwest in Fort Walton Beach, Florida.
Diane Biancanello commented after the sale of her dealership, "I owned Heritage Cycles for 17 years. Although the dealership was not on the market and I was not ready to retire, George Chaconas of Performance Brokerage Services introduced me to a buyer who was extremely qualified, a perfect fit and wrote an offer that I could not refuse. Selling a family business can be an emotional process, especially when it has been in the family for 34 years. George made the sale of Heritage Cycles Harley-Davidson a very smooth transaction. I am confident that the buyer will continue the legacy my brother began in 1980 and I continued for the past 17 years."
About Performance Brokerage Services
Performance Brokerage Services, an auto dealership broker, specializes in professional intermediary services to buyers and sellers of automotive, Harley-Davidson and Powersports dealerships.
The company offers a different approach to the automotive brokerage industry by providing free dealership assessments, no upfront fees, no reimbursement of costs and is paid a success fee only. Performance Brokerage Services gets paid only after the client gets paid.
With over 23 years of experience, the company utilizes an extensive network of automotive accountants, attorneys, hundreds of registered buyers and enjoys longstanding relationships with most of the auto manufacturers. The intermediaries at Performance Brokerage Services have been involved in well over 400 transactions. Pledging loyal and unwavering representation, confidentiality is vigilantly protected during the selling process and after the transaction closes.
With corporate offices in Irvine, California located at 7545 Irvine Center Drive, three satellite offices in Utah, Florida and New Jersey, and a dedicated Harley-Davidson and Powersports division, Performance Brokerage Services provides its clients national exposure with local representation. For more information about the services offered by Performance Brokerage Services, visit http://performancebrokerageservices.com.