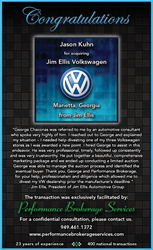 Thank you, George and Performance Brokerage Services, for your help, professionalism and diligence, which allowed me to divest my Volkswagen dealership prior the manufacturer's deadline. - Jimmy Ellis
Irvine, California (PRWEB) January 26, 2015
Performance Brokerage Services is pleased to announce the successful sale of Jim Ellis Volkswagen in Marietta, Georgia by the Jim Ellis Automotive Group to Mr. Jason Kuhn through a limited auction.
Jim Ellis Automotive Group represents 10 franchises in 12 locations throughout Georgia. Founder, President and Chief Executive Officer, Mr. Jim Ellis came from humble beginnings. At the age of 10, his family relocated to Atlanta Prison Farm property where he worked, holding milk, paper and laundry routes, among other odd jobs. After serving in the U.S. Army for two years, Jim found his way into the automotive industry working with General Motors in 1960. In 1971, he purchased his first dealership, Jim Ellis Volkswagen, liquidating his assets, savings and his wife's retirement to fund the purchase. The company will celebrate 44 years in business in 2015.
Awarded a new point to open a Volkswagen dealership in Kennesaw, Georgia by Volkswagen of America, the Jim Ellis Automotive Group was instructed to divest of one of its other two Volkswagen dealerships in neighboring markets. Jim Ellis contacted George C. Chaconas of Performance Brokerage Services, a national car dealership brokerage firm, to assist him with the sale of Volkswagen of Marietta. Provided with a December 31, 2014 deadline by Volkswagen of America, Performance Brokerage Services conducted a limited auction, introducing a sense of urgency to the sales process. Through George's efforts, the ideal buyer, Mr. Jason Kuhn, was exposed to the opportunity and ultimately acquired the dealership. With the collaboration of all parties involved, the deal successfully closed on December 30, 2014 just a day before the deadline. Owning two Volkswagen dealerships in Tampa, Florida as well as a Honda dealership and eager to expand his portfolio, Jason Kuhn viewed the acquisition opportunity as a perfect strategic fit.
Mr. Jimmy Ellis, Vice-President of the Jim Ellis Automotive Group, commented on the quality of service provided by Performance Brokerage Services stating, "George Chaconas was very professional, timely, followed up consistently and was very trustworthy. He put together a beautiful, comprehensive marketing package and was able to manage the auction process, identifying the eventual buyer. Thank you, George and Performance Brokerage Services, for your help, professionalism and diligence, which allowed me to divest my Volkswagen dealership prior the manufacturer's deadline."
George Chaconas, the representative for this transaction stated, "What a pleasure it is to represent such a reputable dealership group. Closely understanding Jimmy's need to divest of the dealership in a timely manner, we were confident we could assist him in attaining his goals through a limited auction."
About Performance Brokerage Services
Performance Brokerage Services, an auto dealership broker firm, specializes in professional intermediary services to buyers and sellers of automotive, Harley-Davidson and Powersports dealerships.
The company offers a different approach to the automotive brokerage industry by providing free dealership assessments, no upfront fees, no reimbursement of costs and is paid a success fee only. Performance Brokerage Services gets paid only after the client gets paid.
With over 23 years of experience, the company utilizes an extensive network of industry related accountants, attorneys, hundreds of registered buyers and enjoys longstanding relationships with most of the auto manufacturers. The mediators at Performance Brokerage Services have been involved in well over 400 transactions.
With corporate offices located at 7545 Irvine Center Drive, Suite 200, Irvine, CA 92618 and three satellite offices in Utah, Florida and New Jersey, Performance Brokerage Services provides national exposure with local representation. Pledging loyal and unwavering representation, confidentiality is vigilantly protected during the selling process and after the transaction closes.
For more information about the services offered by Performance Brokerage Services, visit http://www.performancebrokerageservices.com