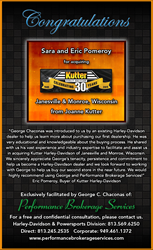 "The Pomeroys will take pride in the traditions and heritage that Kutter Harley-Davidson has built over thirty years and hope to even take it to another level." - George C. Chaconas, Performance Brokerage Services
Irvine, California (PRWEB) June 03, 2015
After thirty years of ownership, Joanne Kutter has announced the sale of Kutter Harley-Davidson to Sara and Eric Pomeroy, first-time Harley-Davidson dealers. Kutter Harley-Davidson was founded in 1985 by Rudi and Joanne Kutter in Delavan, Wisconsin with only two motorcycles on display. In 2003, Joanne opened another location in Monroe, Wisconsin. In the same year, Kutter Harley-Davidson was ranked the number one domestic motorcycle dealer in the United States and has received over 15 Bar and Shield Awards from Harley-Davidson Motor Company. With 140 events planned for 2015, Joanne experienced many successful charity and philanthropic events out of her dealership over the years. One of the most successful motorcycle rides nationally is the annual MDA Tub Run, which often included more than 2,000 riders. The Pomeroys, the new owners, intend to keep all events scheduled as Joanne had planned including celebrating the 30 year anniversary of the business. Joanne hired George C. Chaconas from Performance Brokerage Services to assist with the sale of her dealership and George was successful in identifying the right buyers for one of the most iconic Harley-Davidson dealerships in the country.
Sara and Eric Pomeroy from Delafield, Wisconsin plan to keep the dealership at its current location at 3223 North Pontiac Drive in Janesville. The dealership has been renamed to Boardtrackers Harley-Davidson. The name is derived from the early days of motorcycle racing. In the 1910s and 1920s, motorcycle competitions were referred to as "board track racing", where the riders would race around circular courses made of wooden planks. The Pomeroys intend to have a display featuring historical motorcycles from this period. In regards to future changes to the operation, the Pomeroys will conduct a makeover including new signage, the adding of additional seating and parking at the front of the dealership for riders to congregate, and an increase to the overall inventories. After completing the recent purchase of his dealership, Eric Pomeroy commented on the service he received from George Chaconas, the Harley-Davidson dealership broker at Performance Brokerage Services. Eric stated, "George was introduced to us by an existing Harley-Davidson dealer to help us learn more about purchasing our first dealership. He was very educational and knowledgeable about the buying process. He shared with us his vast experience and industry expertise to facilitate and assist us in acquiring Kutter Harley-Davidson of Janesville and Monroe, Wisconsin. We sincerely appreciate George's tenacity, persistence and commitment to help us become a Harley-Davidson dealer, and we look forward to working with George to help us buy our second store in the near future."
George Chaconas, the representative for this transaction and the head of the National Harley-Davidson and Powersports Division shared, "It was a tremendous pleasure helping Joanne through this transition and we could not have identified a more perfect couple to carry on her legacy. The Pomeroys will take pride in the traditions and heritage that Kutter Harley-Davidson has built over thirty years and hope to even take it to another level."
About Performance Brokerage Services
Performance Brokerage Services, an auto dealership broker, specializes in professional intermediary services to buyers and sellers of automotive, Harley-Davidson and Powersports dealerships.
The company offers a different approach to the automotive brokerage industry by providing free dealership assessments, no upfront fees, no reimbursement of costs and is paid a success fee only. Performance Brokerage Services gets paid only after the client gets paid.
With over 23 years of experience, the company utilizes an extensive network of automotive accountants, attorneys, hundreds of registered buyers and enjoys longstanding relationships with most of the auto manufacturers. The intermediaries at Performance Brokerage Services have been involved in well over 400 transactions. Pledging loyal and unwavering representation, confidentiality is vigilantly protected during the selling process and after the transaction closes.
With corporate offices in Irvine, California located at 7545 Irvine Center Drive, three satellite offices in Utah, Florida and New Jersey, and a dedicated Harley-Davidson and Powersports division, Performance Brokerage Services provides its clients national exposure with local representation. For more information about the services offered by Performance Brokerage Services, visit https://performancebrokerageservices.com.