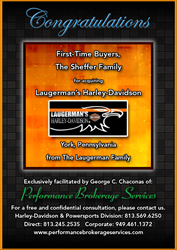 George made himself available at any time of the day or night, even on weekends and while on vacation! He did everything he said he would do, and more. - Heather Goodwin
Irvine, California (PRWEB) October 12, 2015
In 1949, Lloyd "Bud" Laugerman began selling Harley-Davidson motorcycles out of a garage in an alley behind his home. This would later become Laugerman's Harley-Davidson. The current location in York, Pennsylvania was opened in 1993 and is an important dealership for the Harley-Davidson Motor Company as it resides just one mile from the Harley-Davidson manufacturing factory. Many tourists who tour the factory visit the dealership and vice versa.
Bud Laugerman passed away in 1994, but the business remained in the family, owned and operated by his sons, David and Michael Laugerman, who have been in the business for 45 years and 40 years, respectively. When the two decided that it was time to retire from the business altogether, they contacted nationally renowned Harley-Davidson dealership broker, George C. Chaconas from Performance Brokerage Services. "When my father, Dave and uncle, Mike finally decided to sell Laugerman's Harley-Davidson after considerable contemplation and soul searching, George Chaconas met with me and my family to discuss our dealership, its history, its potential and what kind of buyer would be best to carry on our family's legacy…the business had been in the family for so long and this was a difficult and emotional decision for all of us," shared Heather Goodwin, Operations Manager and relative. She continued, "George was open, honest and obviously very experienced and educated in his field. He brought numerous qualified buyers to the table, which proved his reach and breadth of contacts. George made himself available at any time of the day or night, even on weekends and while on vacation! He did everything he said he would do, and more."
First-time buyers, business partners and brother and sister, Clint Sheffer and Sue Renoll, owned Miller Beer Distribution in York, Pennsylvania along with their late father, among many other businesses. After his passing, they sold the business and explored new opportunities. Having a mutual accountant with the Laugerman family, they were introduced to the opportunity to acquire Laugerman's Harley-Davidson. Clint recently completed his Harley-Davidson riding class and received his license. Sue will be interacting more closely with the customers at the retail location. Advisor to the Sheffer family, Todd Gettys mentioned, "I have been working with the Sheffer family for many years. The family has been involved in beer wholesaling, construction equipment rentals and truck repair. When I learned of Laugerman's Harley-Davidson, I felt it would be a tremendous match for them. Clint Sheffer understands how to service a brand and has an interest in motor vehicles, while Sue enjoys working with people and has a passion for retail. Over a short period of time, we developed an excellent working relationship with George Chaconas, who was a calm negotiator and assisted in bringing the deal together on both sides of the table."
Laugerman Harley-Davidson will operate under its new name 1st Capital Harley-Davidson and will remain at its current location at 100 Arsenal Road in York, Pennsylvania 17404.
George C. Chaconas, the exclusive agent for this transaction and the head of the National Harley-Davidson and Powersports Division for Performance Brokerage Services commented, "It was a pleasure working with both the Laugerman and Sheffer families in consummating a mutually beneficial transaction. I wish Dave and Mike an enjoyable retirement, and wish Clint and Sue tremendous success with their recent purchase."
About Performance Brokerage Services
Performance Brokerage Services, an auto dealership broker, specializes in professional intermediary services to buyers and sellers of automotive, Harley-Davidson and Powersports dealerships.
The company offers a different approach to the automotive, Harley-Davidson and Powersports industries by providing complimentary dealership assessments, no upfront fees, no reimbursement of costs and is paid a success fee only. Performance Brokerage Services gets paid only after the client gets paid.
With over 24 years of experience, the company utilizes an extensive network of industry related accountants, attorneys, hundreds of registered buyers and enjoys longstanding relationships with most of the auto manufacturers and the Harley-Davidson Motor Company. The intermediaries at Performance Brokerage Services have been involved in well over 400 transactions. Pledging loyal and unwavering representation, confidentiality is vigilantly protected during the selling process and after the transaction closes.
With corporate offices in Irvine, California located at 7545 Irvine Center Drive, four satellite offices in Utah, Florida, Texas and New Jersey, and a dedicated Harley-Davidson and Powersports Division, Performance Brokerage Services provides its clients national exposure with local representation. For more information about the services offered by Performance Brokerage Services, visit https://performancebrokerageservices.com.