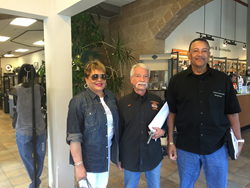 "After being in business for over 43 years some of my customers include Bruce Springsteen and Jon Bon Jovi among others." - Jeff Margaritell
Irvine, CA (PRWEB) June 23, 2015
After forty-three years of ownership, Jeff Margaritell sells Long Branch Harley-Davidson to Asa Murray, owner of Ocean County Harley-Davidson in Lakewood, New Jersey. Jeff founded Harley-Davidson of Long Branch in 1972 along with three partners. Since, he grew the operation into a 20,000 square foot facility and employs over 25 employees. The dealership was ranked a top-100 dealer by Dealernews Magazine, has received Gold, Silver and Bronze Bar & Shield Awards from Harley-Davidson Motor Company, and is considered the #1 service department in the district, according to Harley-Davidson customer service surveys. Jeff contacted George Chaconas from Performance Brokerage Services to assist with selling his Harley-Davidson dealership. Following the sale, Jeff shared, "I frequently received inquiries and notices regarding recent transactions of Harley-Davidson dealerships from George Chaconas and Performance Brokerage Services. I finally made the very difficult and emotional decision to call George to guide me in the sale of my dealership. I felt even more confident due to their vast buy/sell experience and ability to maximize the value of my dealership through their marketing and sales process. Ironically, George was able to negotiate a win/win purchase price with my biggest competitor. George convinced me that he was the most qualified and best buyer to carry on my legacy at Harley-Davidson of Long Branch. After being in business for over 43 years some of my customers include Bruce Springsteen and Jon Bon Jovi among others. George was very responsive throughout the entire transaction, from the Letter of Intent to the Buy/Sell to the Closing, always returned my calls quickly and promptly, day or night and even on weekends. Without George's expertise, integrity and honesty throughout the process, I do not know what would have happened or how this transaction would have panned out."
Asa Murray's Ocean County Harley-Davidson was awarded the Platinum Award in 2010 and the Gold Award in 2011 and 2012. Asa intends to bring his same philosophies, processes and procedures to Long Branch Harley-Davidson. The dealership will undergo an interior remodeling to include administrative offices and will remain in its current location at 671 Broadway. Within the next few years, Asa will relocate the dealership to a new, state of the art facility and continue to service the community. The dealership now operates under the name Shoreline Harley-Davidson and long-term General Manager, Dawn White has remained with the dealership. Commenting on his recent purchase Asa stated, "I had a strong interest and desire to own that dealership and expand my territory for years. I was very excited about working with George and making a deal happen and this dealership was the perfect strategic fit. George was very informative, professional, and shared all pertinent information very quickly. He was extremely helpful in successfully maintaining confidentiality while negotiating through the Letter of Intent, especially since the seller, Jeff Margaritell was very concerned about word getting out that he was selling his dealership. I knew that Jeff was most likely nervous and uncomfortable about me having discussions about buying his store as we were direct competitors for many years. Once Jeff and I became comfortable with each other, with George's assistance, we were able to work through a buy/sell in order to consummate a deal that all parties felt was fair and equitable. I look forward to continuing the legacy that Jeff began 43 years ago at Harley-Davidson of Long Branch. I greatly appreciate George's assistance in navigating through this transaction and would definitely recommend George Chaconas and Performance Brokerage Services if you are buying or selling a dealership."
George C. Chaconas, the agent exclusive for this transaction and the head of the National Harley-Davidson and Powersports Division for Performance Brokerage Services commented, "It was with great pleasure and I am very proud to have represented and advised Jeff Margaritell in the sale of the business that he owned and operated for 43 years. Although this was very emotional for Jeff, it was exceptionally moving for me to have helped Jeff take the necessary step to move on to the next stage of his life. I found it gratifying to be able to help Jeff change his lifestyle and path moving forward, after being involved with the dealership and the Harley-Davidson Motor Company for over four decades. Additionally, it was rewarding and exciting to assist the new owner, Asa Murray of Harley-Davidson of Ocean County, with his dreams and aspirations of growing his business by acquiring a very desirable, strategic and well known Harley-Davidson dealership in New Jersey. I wish both of them great success in their new endeavors."
About Performance Brokerage Services
Performance Brokerage Services, an auto dealership broker, specializes in professional intermediary services to buyers and sellers of automotive, Harley-Davidson and Powersports dealerships.
The company offers a different approach to the automotive brokerage industry by providing free dealership assessments, no upfront fees, no reimbursement of costs and is paid a success fee only. Performance Brokerage Services gets paid only after the client gets paid.
With over 23 years of experience, the company utilizes an extensive network of automotive accountants, attorneys, hundreds of registered buyers and enjoys longstanding relationships with most of the auto manufacturers. The intermediaries at Performance Brokerage Services have been involved in well over 400 transactions. Pledging loyal and unwavering representation, confidentiality is vigilantly protected during the selling process and after the transaction closes.
With corporate offices in Irvine, California located at 7545 Irvine Center Drive, three satellite offices in Utah, Florida and New Jersey, and a dedicated Harley-Davidson and Powersports division, Performance Brokerage Services provides its clients national exposure with local representation. For more information about the services offered by Performance Brokerage Services, visit https://performancebrokerageservices.com.