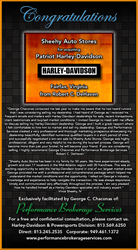 George will become more than just your broker, he will become your friend. If you are considering selling I would highly recommend George Chaconas and Performance Brokerage Services. - Robert DeHaven
Irvine, California (PRWEB) March 19, 2015
Sixty-nine-year-old Mr. Robert C. DeHaven recalls fond childhood memories of being a Harley-Davidson enthusiast with his father. Wishing to spend more time with his wife and young son, Robert contacted George C. Chaconas of Performance Brokerage Services, a Harley-Davidson and auto dealership broker, to facilitate the sale of his dealership, Patriot Harley-Davidson. Robert received an open point from Harley-Davidson Motor Company in 1997 and opened Patriot Harley-Davidson in Fairfax, Virginia on April 1, 1999. Located at 9739 Fairfax Boulevard, the dealership utilizes 2.7 acres of land featuring a 27,345 square foot, state of the art facility.
Following the sale of his dealership, Robert DeHaven commented, "I invited George to meet with me offsite to discuss selling my Harley-Davidson dealership. George and I built a great rapport where I felt comfortable to hire him to market and sell my dealership. George and Performance Brokerage Services created a very professional and thorough marketing prospectus showcasing my dealership beautifully, identified numerous qualified buyers in a short period of time, and successfully negotiated a win-win sale to Sheehy Auto Stores. George was highly professional, diligent and very helpful to me during the buy/sell process. George will become more than just your broker, he will become your friend. If you are considering selling I would highly recommend George Chaconas and Performance Brokerage Services."
George Chaconas of Performance Brokerage Services introduced Robert DeHaven to Mr. Vince Sheehy IV, President of Sheehy Auto Stores, Inc. and the eventual buyer for Patriot Harley-Davidson. Also based in Fairfax, Sheehy Auto Stores was a natural buyer. Sheehy Auto Stores offers its customers 17 locations throughout the Mid-Atlantic region representing 9 new car franchises, including Ford, Lincoln, Honda, Lexus, Nissan, Subaru, Hyundai, Infiniti and Volkswagen. Sheehy Auto Stores began as a single Ford dealership in 1965 in Washington D.C. and by 1975, Sheehy Ford was the largest Ford dealership in the United States. Sheehy Auto Stores currently sells over 30,000 vehicles annually and generates over $900 million in revenue.
Vince Sheehy IV earned his MBA from the Wharton School at the University of Pennsylvania. Working at General Mills as a marketing manager, he could not deny his natural inclination towards the family business and the auto industry. In 1987, Vince joined his family and quickly became the President of Sheehy Auto Stores in 1998.
After the purchase of Patriot Harley-Davidson, Vince Sheehy IV commented, "It was an exciting opportunity to add the Harley-Davidson brand in one of our largest market areas. George provided me with a professional, comprehensive package which helped me understand the market conditions and the opportunity. I relied on George's industry knowledge and experience to help navigate the transaction. He always very responsive, timely and communicated very effectively throughout the process. I am very pleased how George handled himself as a professional and a Harley-Davidson specialist and industry expert."
George Chaconas, the representative for this transaction and the head of the National Harley-Davidson and Powersports Division shared, "Rarely, do we get the opportunity to represent such an iconic operation as Patriot Harley-Davidson. It was my great pleasure to have assisted Mr. Robert DeHaven with his business plans. We wish him an enjoyable retirement and thank him for the business. Mr. Vince Sheehy was a logical buyer for the Harley-Davidson dealership benefiting from synergy and implementing similar business practices that built an incredible automotive group spanning over 50 years."
About Performance Brokerage Services
Performance Brokerage Services, an auto dealership broker, specializes in professional intermediary services to buyers and sellers of automotive, Harley-Davidson and Powersports dealerships.
The company offers a different approach to the automotive brokerage industry by providing free dealership assessments, no upfront fees, no reimbursement of costs and is paid a success fee only. Performance Brokerage Services gets paid only after the client gets paid.
With over 24 years of experience, the company utilizes an extensive network of automotive accountants, attorneys, hundreds of registered buyers and enjoys longstanding relationships with most of the auto manufacturers. The intermediaries at Performance Brokerage Services have been involved in well over 400 transactions. Pledging loyal and unwavering representation, confidentiality is vigilantly protected during the selling process and after the transaction closes.
With corporate offices in Irvine, California located at 7545 Irvine Center Drive, three satellite offices in Utah, Florida and New Jersey, and a dedicated Harley-Davidson and Powersports division, Performance Brokerage Services provides its clients national exposure with local representation. For more information about the services offered by Performance Brokerage Services, visit http://performancebrokerageservices.com.