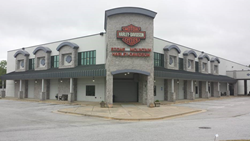 George absolutely lived up to our expectations. - Jason Dyer
Irvine, California (PRWEB) August 06, 2014
Performance Brokerage Services announces the successful sale of Stone Mountain Harley-Davidson in Conyers, Georgia from Jason Dyer and Joe Adams to Rodin Younessi and John Hamer. This transaction was exclusively facilitated by George C. Chaconas of Performance Brokerage Services.
In December 2011, Jason Dyer and his family established Stone Mountain Harley-Davidson. Though the Dyer family had extensive experience in the powersports industry, this was their first time owning a Harley-Davidson franchise. Stone Mountain Harley-Davidson features one of the largest parts and service departments in Georgia. Also owning and operating Extreme Powersports in Columbus, Georgia as well as Gil's Auto Sales, which consists of five retail locations in Georgia and Alabama, the Dyer family will focus their attention towards their other businesses. Part-owner and General Manager, Joe Adams, will pursue other business interests. Following the sale of his dealership through Performance Brokerage Services and its representative, George Chaconas, Jason Dyer stated "We contacted George Chaconas because of his stellar reputation in the Harley-Davidson space. George absolutely lived up to our expectations. Throughout the sale of our dealership, George was responsive, professional and successful in bringing us the best buyer for our store."
Rodin Younessi and John Hamer own and operate Seminole Harley-Davidson in Sanford, Florida and Space Coast Harley-Davidson in Palm Bay, Florida. Eager to expand their operation through acquisitions in the Southeast, Stone Mountain Harley-Davidson was a great opportunity without being too far from their existing dealerships in Florida. When questioned about the recent acquisition and the service provided by George Chaconas and Performance Brokerage Services, Rodin Younessi commented "We spoke with George Chaconas about our desire to buy another Harley-Davidson dealership and grow our operation. When George brought to us Stone Mountain Harley-Davidson, we were thankful that he remembered our discussion. George remained involved through the entire transaction and was a pleasure to work with. We highly recommend George and Performance Brokerage Services."
Stone Mountain Harley-Davidson has been renamed by Rodin Younessi to Falcons Fury Harley-Davidson. The dealership will remain in its current location at 900 Dogwood Drive in Conyers, GA 30012.
George C. Chaconas, the head of Performance Brokerage Services' National Harley-Davidson and Powersports Division and the exclusive representative for this transaction stated, "It was very rewarding representing Stone Mountain Harley-Davidson as it enjoys such a remarkable reputation in town. Part of their mission statement reads to 'open channels of honest communication between staff and clients' and I knew right away that their personalities and business ethics were much aligned with ours. I wish the Dyer family and Joe Adams great success in their other business ventures as well as Rodin Younessi and John Hamer success with their recent purchase."
About Performance Brokerage Services
Performance Brokerage Services, an auto dealership broker, specializes in professional intermediary services to buyers and sellers of automotive, Harley-Davidson and Powersports dealerships.
The company offers a different approach to the automotive brokerage industry by providing free dealership assessments, no upfront fees, no reimbursement of costs and is paid a success fee only. Performance Brokerage Services gets paid only after the client gets paid.
With over 23 years of experience, the company utilizes an extensive network of automotive accountants, attorneys, hundreds of registered buyers and enjoys longstanding relationships with most of the auto manufacturers. The intermediaries at Performance Brokerage Services have been involved in well over 400 transactions. Pledging loyal and unwavering representation, confidentiality is vigilantly protected during the selling process and after the transaction closes.
With corporate offices in Irvine, California located at 7545 Irvine Center Drive, three satellite offices in Utah, Florida and New Jersey, and a dedicated Harley-Davidson and Powersports division, Performance Brokerage Services provides its clients national exposure with local representation. For more information about the services offered by Performance Brokerage Services, visit http://www.performancebrokerageservices.com.
You may also contact George C. Chaconas directly by sending an e-mail to george(at)performancebrokerageservices(dot)com.