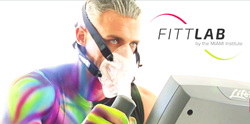 FITTLab is the ultimate physical and a compliment to what we do in wellness, says Dr. Adonis Maiquez, ABAARM
Miami, FL (PRWEB) October 15, 2015
Athletes, weekend warriors, fitness enthusiasts, and anyone interested in improving their health now has a new testing facility where the results go beyond the routine check-up.
The MIAMI Institute for Age Management and Intervention has moved FITTLab from its former South Beach location and re-opened in its multi-specialty anti-aging medical facility at the Four Seasons Hotel and Tower where five-star service is the standard of care in a modern and luxurious, AAAHC accredited facility.
FITTLab (Fitness Intelligence Through Testing Laboratory), is a testing facility where the health and wellness of the patient is scientifically assessed and proactively managed that sets the standard for preventative health screening and medical analysis. Taking a functional medicine approach to identify and correct imbalances before disease sets in, FITTLab advances the screening process so that the result is not merely alleviating symptoms but assessing the root of the problem and then setting forth a plan to fix it. It is a sophisticated look at how well the patient is aging that serves as a foundation for the medically-sound action plan to correct, maintain, or achieve better health and longevity.
The wellness team uses biochemistry and physiology to gain a more complete understanding of each patient's unique body composition as a tool to enhance the patient experience, improve results, and to create programs to address weight management, anti-aging strategies, stress management and more.
"FITTLab is the ultimate physical and a compliment to what MIAMI Institute does in wellness," says Dr. Adonis Maiquez, ABAARM, Director of Wellness for the MIAMI Institute and Medical Director of FITTLab, certified by the American Academy of Anti-Aging and Regenerative Medicine and member of the International Hormone Society. "In wellness FITTLab looks at all the markers: blood, biological and anti-aging that keep people healthy and help them recover from diseases they already have or to keep them aging in a healthy fashion.
FITTLab can now incorporate this objective testing done by the machines along with the blood test and focus on two different areas: fitness and wellness. Wellness includes the functionality of their organs and how they are aging. This goes beyond the cardiologist's stress test in that it's more of a functional aging evaluation of their health and wellness to test fitness levels. A stress test with VO2 Max which determines how much oxygen they use during exercise and tells the patient how to get the most out of a workout.
FITTLab checks heart health and determines risk for heart attack or stroke. Blood vessel stiffness is checked and the aging of the cardiovascular system. Brain functioning and the reaction to stimulants, the memory, the reaction time of the brain provides information on how the brain is aging in terms of functionality. Tests are also performed to determine how the skin is aging. An ultrasound of the carotid artery, and the aorta to see if they have plaque to see if they have the possibility of an aneurism or are high risk of sudden death is checked, along with a toxicity level and nutrient level check which gives us an idea of nutrition.
All of this is done with non-invasive tests that are painless and takes a functional medicine approach of getting to the root of the problem. FITTLab then has a better understanding of where the patient's health is now and where they are going. The information gathered is used to devise a very personalized wellness plan. These tests can benefit anyone, even with the super healthy, FITTLab has found ways to fine tune their health.
Anyone interested in improving one's health through in-depth diagnostic testing and a uniquely created wellness plan can book an appointment with FITTLab through the Miami Institute for Age Management and Intervention (305) 624-0009 or visit http://FittLab.com.
About the MIAMI Institute
The MIAMI Institute for Age Management and Intervention is a multi-specialty medical practice that addresses all aspects of the aging process including plastic surgery, hormone replacement therapy, reconstructive dentistry, aesthetics, skin care and psychotherapy under one roof in the Four Seasons Hotel and Tower in the Brickell district of downtown Miami.