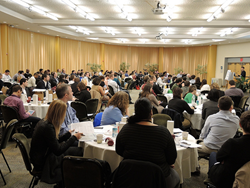 Boca Raton, FL (PRWEB) May 16, 2015
It has been announced that Evan Weber, CEO and Founder of digital marketing agency Experience Advertising, will be the official emcee at the upcoming Performance Marketing Summit in Boca Raton, May 18, 2015. Evan will also be giving a brief presentation called Performance Marketing Tips.
Evan Weber is a seasoned digital marketing, ecommerce, and social media professional of over 17 years. He is a frequent speaker at the Affiliate Summit shows and has become one of the most popular speakers. In fact, his Affiliate Summit West 2015 presentation was the most attended of the entire conference.
Evan has expertise and experience is all facets of digital marketing including: website marketing, social media advertising, affiliate marketing, referral marketing, conversion rate optimization, search engine marketing, content marketing, email marketing, web design, and web development. Evan has personally worked with 1000's of affiliate marketers as their personal coach and mentor.
Evan's agency, Experience Advertising, has worked with more than 200 ecommerce companies managing and optimizing their digital marketing and social media channels. Evan also works with companies as their digital marketing consultant. He is a extremely approachable and friendly person and would love to speak to anyone at the conference about their web projects and provide feedback.
The Performance Marketing Summit will be a one day conference taking place at the Renaissance Boca Raton Hotel. Space will be limited to 100 people. The focus will be on learning and networking. All sessions will be 18 minutes long. The show is officially sold out.