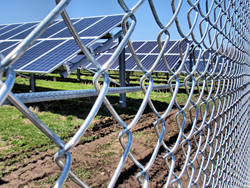 Perimeter protection is now made Easy, Reliable and Affordable with IRONCLAD.
Derwood, Maryland (PRWEB) August 07, 2014
RBtec perimeter security systems announces that its range of IRONCLAD fence sensor kits are available at ADI Global, the largest security distributor in North America and subsidiary of Honeywell. The kits are sold in the USA, Canada and Puerto Rico.
The Ironclad perimeter intrusion detection system is sold at ADI in kits to protect chain link fenced perimeters from unauthorized intrusion.
Each kit includes an analyzer and can monitor up to 2 zones with lengths of up to 1000ft. The kits are sold with optional spools of 250ft, 500ft or 1000ft per zone and comes pre terminated from the factory.

Ready for installation affordable kits
3 Layers of False Alarm Filtration - Extreme low false alarm rate.
No training or special tools needed, comes with installation manual.
No calibration - The system self-calibrates.
Maintenance free - 2 years warranty on the sensor cable.
11 Levels of sensitivity per zone
Dry contact relay outputs (NO or NC), can be connected to any alarm system/DVR
Ideal for installation on chain link fences or concertina coils.
The system is a real time perimeter protection meant to detection intruders on the way IN, when the fence is cut, climbed or jumped. Once an intruder tries to cross the fence line there would be an instant alarm that will give the local police, monitoring company or the owner another 5-10 minutes to react and stop the intrusion.
The system outputs are dry contact relays that can be connected to any alarm system or DVR, the system does not need any calibration or software.
The system detects only certain frequencies that are associated with intrusion as an alarm. Wind, rain and small animals would be filtered out, as an extra layer of protection against false alarms RBtec offers a weather station that measures wind and rain and feeds real time information into the analyzer.
The Ironclad fence intrusion detection system works best in commercial, industrial, power and utility applications. The system is protected against lightning or other electromagnetic interference and is not affected by them.
About RBtec Perimeter Security Systems.
Since 1986 RBtec has been recognized as a leader in perimeter security solutions. RBtec develop, manufacture, integrate and install perimeter security systems, geared for the medium to high-risk commercial, industrial, correctional and homeland security markets.
RBtec provides reliable, effective and cost efficient integrated outdoor security solutions suitable for perimeter security fence and intrusion detection projects requiring; Perimeter Intrusion Detection, CCTV, Indoor/Outdoor Security Systems and various other perimeter security elements.
For more information, please visit http://www.rbtec.com or contact us as 301-760-4016.