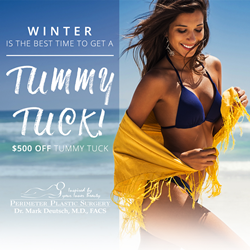 ATLANTA (PRWEB) January 08, 2019
Atlanta plastic surgery practice, Perimeter Plastic Surgery, encourages patients to consider seasonal advantages when planning a tummy tuck and other cosmetic procedures. There are distinct benefits that winter months offer during a patient's postoperative healing period, including discreet recovery and reduced sun exposure.
"Although tummy tucks are performed year-round, there are various reasons as to why having the procedure performed during the cold season is ideal," said Mark Deutsch, MD, FACS, a double board-certified plastic surgeon and the medical director of Perimeter Plastic Surgery. "In the winter months, patients are able to use layers to cover compression garments more comfortably; they also have less risk of hyperpigmentation and hypopigmentation, which is the darkening or lightening of scars due to sun exposure."
Compression garments are mandatory for patients several weeks following a tummy tuck to control swelling and improve results. During colder months, garments can be hidden under bulkier winter clothing, and no wardrobe restrictions are necessary.
"Heat from the sun can also slow the recovery process, resulting in a longer waiting period before full treatment benefits are revealed," said Dr. Deutsch. "Winter provides a more controlled healing environment in which post-op swelling is more likely to be minimized. In addition, incision wounds from winter will heal by spring, and patients will have regained energy to participate in recreational activities."
To encourage patients to take advantage of these wintertime benefits, Perimeter Plastic Surgery is offering $500 off a tummy tuck procedure. To schedule a complimentary consultation, contact Perimeter Plastic Surgery at 404-255-0886. Consultation requests can also be made by filling out the online contact form at https://www.perimeterplasticsurgery.com/contact/.
About Perimeter Plastic Surgery:
Perimeter Plastic Surgery is one of the top plastic surgery practices with locations in Atlanta and Fayetteville, Georgia. Owner and founder of the practice, Mark Deutsch, MD, FACS, has over 20 years of plastic surgery experience, is double board-certified, and has been named a Top Doctor in Atlanta by Castle Connolly for three years in a row: 2016, 2017, and 2018. Perimeter Plastic Surgery's Atlanta office is located in Northside Hospital's Northside Doctor's Center on Johnson Ferry Road. For more information about Dr. Deutsch and Perimeter Plastic Surgery, please visit https://perimeterplasticsurgery.com.