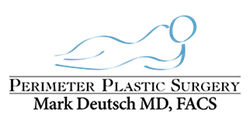 This is a cause that's very near and dear to my heart, not only because of the survivors I have worked with in the past, but also because of my mother
Atlanta, GA (PRWEB) October 03, 2017
In recognition of October being National Breast Cancer Awareness Month, Dr. Mark Deutsch of Atlanta-based Perimeter Plastic Surgery will be donating a percentage of the proceeds from all breast surgeries he performs in October 2017 to the charity organization, Susan G. Komen for the Cure.
"Each year, I am proud to participate in National Breast Cancer Awareness Month, to help support the fight for a cure for the disease and support those who suffer from it," says Dr. Deutsch, who is a double board-certified plastic and reconstructive surgeon with more than 20 years of cosmetic and reconstructive surgery experience.
Dr. Deutsch is a fervent champion of the breast cancer awareness movement and the Susan G. Komen organization. He is one of the few surgeons in Atlanta who specializes in DIEP Flap Reconstruction, a procedure that takes abdominal tissue to reconstruct patients' breasts, resulting in a flatter stomach and natural-looking breasts. Special training at the MD Anderson Cancer Center in Houston, Texas—one of the foremost breast cancer centers in the world—qualifies Dr. Deutsch as one of the most respected and capable breast reconstruction surgeons in Atlanta.
Susan G. Komen is the world's largest breast cancer organization, funding more breast cancer research than any other nonprofit group. Since its founding in 1982, Komen has funded more than $800 million in research and provided $1.7 billion in funding to screening, education, treatment and psychosocial support programs serving millions of people in more than 30 countries worldwide.
Dr. Deutsch's decision to donate a portion of all breast surgeries to Susan G. Komen comes not only from his frequent interactions with patients who survived breast cancer, but also to honor his own mother who is a breast cancer survivor.
"This is a cause that's very near and dear to my heart, not only because of the survivors I have worked with in the past, but also because of my mother," says Dr. Deutsch. "I'm honored to be able to contribute to such an amazing organization that continues to positively impact thousands of lives every day."
About Perimeter Plastic Surgery:
Dr. Mark Deutsch is the founder of Perimeter Plastic Surgery and a top plastic surgeon in Atlanta. He is board certified by the American Board of Plastic Surgery, and performs a variety of cosmetic and reconstructive surgeries. In addition to his work in the United States, he travels annually to South America to perform volunteer procedures. For more information about Dr. Deutsch and Perimeter Plastic Surgery, please visit perimeterplasticsurgery.com.