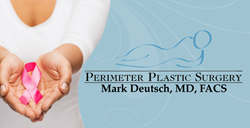 We're excited to be participating in the Komen Greater Atlanta Race for the Cure this May
Atlanta, Georiga (PRWEB) April 14, 2015
Atlanta plastic surgery and reconstructive surgery center Perimeter Plastic Surgery is sponsoring and participating in the 2015 Susan G. Komen Greater Atlanta Race for the Cure 5K and post-race festival on May 9; the staff has joined together to run in the race with the team name The Breast Team. Perimeter Plastic Surgery is encouraging members of the local community to join their team, spreading breast cancer awareness and continuing in the fight to end breast cancer. This year will mark the 25th anniversary of the Susan G. Komen Greater Atlanta Race for the Cure, and all proceeds from the event will be used to support local and national research efforts, screenings, treatments and education programs.
Susan G. Komen's mission is to save lives and help find a cure for breast cancer. Each year, the Komen organization hosts races throughout the country to help raise money for funding scientific research. Dr. Mark Deutsch, board-certified plastic surgeon and founder of Perimeter Plastic Surgery, is honored to be a part of this year's event. In addition to sponsorship and participation in the race, Dr. Deutsch plans is donating a portion of all breast surgery procedures performed at Perimeter Plastic Surgery to the Susan G. Komen organization.
Dr. Deutsch has spent the last two decades studying and practicing both aesthetic and reconstructive surgery after cancer. Using advanced and innovative surgical techniques, Dr. Deutsch restores breast symmetry and fullness post breast mastectomy, helping women regain their confidence and move past their experiences with breast cancer. Over the years, Dr. Deutsch has lectured and published multiple articles on breast reconstruction and participated in the annual Atlanta Breast Symposium.
"We're excited to be participating in the Komen Greater Atlanta Race for the Cure this May," said Dr. Deutsch, medical director of Perimeter Plastic Surgery. "It's very important for us to band together in the fight against breast cancer."
Join The Breast Team in their efforts to raise breast cancer awareness efforts this year. Visit Susan G. Komen for additional information on the race, registration and sponsorship.
About Perimeter Plastic Surgery:
Dr. Mark Deutsch is the founder of Perimeter Plastic Surgery and a top plastic surgeon in Atlanta. He is board certified by the American Board of Plastic Surgery, and performs a variety of cosmetic and reconstructive surgeries. In addition to his work in the United States, he travels annually to South America to perform volunteer procedures. For more information about Dr. Deutsch and Perimeter Plastic Surgery, please visit perimeterplasticsurgery.com.