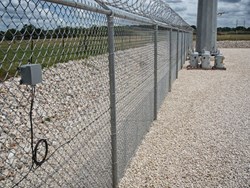 This customer is one of many who have tried Smarter Security perimeter security solutions and come back to purchase more.
Austin, TX (PRWEB) December 11, 2013
Smarter Security, Inc., provider of premium, innovative entrance control and outdoor security solutions, today announced that one of the twenty largest electric utilities in the United States recently placed another order of SmarterFence™ and SmarterBeam™ to secure the perimeter of a remote substation on the east coast. The big electric utility initially tested out the combination of the two products on several substations and this is the second order after success with the perimeter security solutions was proven.
"We are very pleased to have this large electric utility entrust Smarter Security with helping to maintain critical service to its customers," said Jeff Brown, CEO of Smarter Security. "Copper theft and other threats facing substations can interrupt service and cause extensive costs beyond the value of the stolen copper. This customer is one of many who have tried Smarter Security perimeter security solutions and come back to purchase more."
SmarterFence and SmarterBeam CLR500 are used in tandem by this utility to secure the perimeters of several of its substations. SmarterFence detects and alarms intrusions for nearly the entire perimeter and SmarterBeam completes the protection by alarming unauthorized entries through swinging gates. This customer had recurring issues with copper theft and selected Smarter Security solutions over a year ago to try them out on multiple substations. The electric utility also appreciated the ease of installation.
SmarterFence from Smarter Security is a fiber optic perimeter intrusion detection system that reliably detects attempts to cut, climb, or lift a security fence while minimizing false alarms. SmarterFence is ideal for electric substations, where it has extensive penetration, because it is cost-effective for the size of the sites and immune to electromagnetic interference and lightning. SmarterBeam is a passive infrared motion detector with precision engineering to withstand extreme environmental conditions and accurately alarm incursions across an open area. Three models of SmarterBeam are available.
About Smarter Security, Inc.
Smarter Security provides premium and innovative entrance control and outdoor security solutions to help organizations protect their people and assets in a world of ever-present threats. Since 1992, Smarter Security has offered Fastlane turnstiles, the most elegant and intelligent optical turnstiles available, which protect thousands of commercial and governmental lobbies on six continents. Smarter Security also offers perimeter intrusion detection systems, including SmarterFence, a fiber optic fence-mounted sensor. For more information, please visit http://www.smartersecurity.com.
# # #