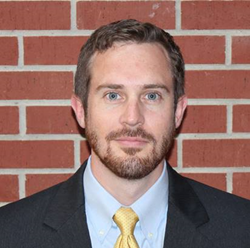 "Getting the chance to join the team at Periodontal Associates of Memphis was a definite dream come true." - Dr. Grant King
MEMPHIS, Tenn. (PRWEB) September 04, 2019
Periodontal Associates of Memphis is pleased to announce that Grant King, DDS, MDS, is joining the practice. Dr. King joins Dr. Roger D. Craddock and Dr. Mitchel S. Godat in continuing the practice tradition of providing patients with exceptional periodontal care.
"We've been extremely excited to have Dr. King on board," says Dr. Craddock. "He's an exemplary physician and has the same passion for periodontal health as Dr. Godat and myself, combined with additional training in implant dentistry. We believe he'll be an enormous asset to us here at Periodontal Associates of Memphis."
Dr. King graduated with honors from Clemson University in 2010 with a BS in Microbiology, and attended the University of Tennessee College of Dentistry, where he received his DDS (Doctor of Dental Surgery) and MDS (Master of Dental Science). He also underwent specialty training in periodontics and implant dentistry, and was appointed chief resident, serving during his final year at UTHSC.
"I come from a family of dentists; my father is a pediatric dentist, and my brother a general dentist," says Dr. King, adding, "Family and community are very important to me. I'm an East Tennessee native, and had hoped to stay in Tennessee to practice and give back to the communities here. Getting the chance to join the team at Periodontal Associates of Memphis was a definite dream come true."
"Dr. King fit into our practice immediately," says Dr. Godat. "He's been a perfect addition to the team, and has already gained the trust of our patient family as well as creating strong bonds with our team and referring doctors. He, Dr. Craddock and I work together well as a team and it makes the entire practice stronger."
Dr. King is a current member of multiple dental organizations, including the American Academy of Periodontology, the American Dental Association, the Academy of Osseointegration, the Tennessee Dental Association, and the Southern Academy of Periodontology.
Periodontal Associates of Memphis is a premiere periodontal practice devoted to the prevention, diagnosis, and treatment of periodontal conditions as well as the surgical placement of dental implants. The practice was originally founded by Dr. Preston Miller and Dr. James Ross, pioneers in the fields of periodontics and dental implantology. Patients interested in scheduling an appointment with Dr. King, Dr. Craddock, or Dr. Godat should call (901) 761-3770 or visit the website.