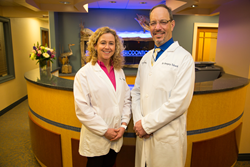 New London, CT (PRWEB) July 17, 2018
Acquired by Dr. Gregory Toback in 1998, Shoreline Periodontics, a leading periodontal practice with two locations in New London, CT and Westerly RI, celebrates 20 years of serving its community. Dr. Toback, and his associate, Dr. Marianne Urbanski, offer specialized and minimally invasive periodontal treatment including dental implants, gum recession and gum disease therapy. In two decades, this team has accomplished advancements in their field while maintaining a practice that is always a step ahead with the latest technology.
Dr. Toback, Diplomate of the American Board of Periodontology, started practicing at Shoreline Periodontics in New London with a passion for dentistry. "Dentistry provided me with the perfect opportunity to merge my love for science with the artistic/creative side of my personality." Since then, he has made large strides in his field from being an appointed faculty member at the University of Connecticut's School of Dental Medicine to contributing numerous research studies on dental implants and periodontics in notable publications including the Journal of Clinical Periodontology.
Dr. Toback frequently speaks on periodontal techniques and technology for organizations like the Connecticut State Dental Association and the Eastern Connecticut Dental Hygiene Association. The American Academy of Periodontology (AAP) invited Dr. Toback to speak and has also awarded him the AAP Clinical Research Award and the AAP Award for outstanding teaching and mentoring in periodontics.
In 2015 Dr. Marianne Urbanski, an accomplished periodontist with over 24 years of experience, joined Shoreline Periodontics. Dr. Urbanski has served as a clinical periodontology instructor at the University of Connecticut's School of Dentistry as well as the Yale General Practice Residency Program. Dr. Urbanski as well as Dr. Toback have each been voted one of Connecticut's top dentists for more than seven years.
On the forefront of their fields, this team now host three study clubs: The Shoreline Periodontics Spear Study Club, Synergy Study Club and Hygiene Study Club. Dr. Toback also founded and leads a continuing education course and mentorship program specifically fo r periodontists who want to grow and develop their practice called HP3 or High-Performance Perio Practice.
Together Drs. Toback and Urbanski offer the latest techniques and technology in periodontology to ensure each patient receives the most comfortable and advanced care. Using 3D Cone Beam CT imaging technology and Navident planning software, this team is able to digitally plan the placement of dental implants with a high degree of predictability and accuracy and has placed over 9,000 dental implants at Shoreline Periodontics. Using LANAP, a laser dentistry technique, they effectively eradicate gum disease and with a certification in the Pinhole® Surgical Technique, they can gently correct gum recession.
Drs. Toback and Urbanski are excited to celebrate 20 years serving their patients at Shoreline Periodontics. To receive a dental implants, gum disease or gum recession consultation by leading periodontists in New London, CT or Westerly, RI, visit http://www.shorelineperio.com.
About the Practice
Shoreline Periodontics is a periodontal practice offering personalized dental care for patients since 1998 and is located in New London, CT and Westerly, RI. Leading board-certified periodontist, Dr. Gregory A. Toback, received his B.A. from St. John's University and his Doctorate of Dental Medicine from the University of Connecticut. He also received advanced training in periodontics and dental implants at the University of Texas Health Science Center in San Antonio. Dr. Toback focuses on minimally invasive surgeries, offering LANAP® and belongs to a small group of dental professionals currently providing the Chao Pinhole Surgical Technique™ for treatment of gum recession. Dr. Marianne Urbanski has been voted one of Connecticut's top dentists for more than seven years by Connecticut Magazine. Dr. Urbanski graduated cum laude from the College of Holy Cross in Worcester, Massachusetts where she earned a Bachelors' degree in Biology. She also received her Doctor of Dental Medicine degree and her Masters' of Dental Science degree from the University of Connecticut Dental School. Dr. Urbanski prides herself on offering caring, professional treatment to each patient. To learn more about Shoreline Periodontics and their dental services visit their website at http://www.shorelineperio.com or call 860-443-2428 for the New London, CT location, or 401-596-0000 for the Westerly, RI office.