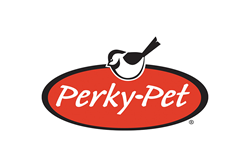 We wanted to develop a website that would serve as a single, go-to resource for bird-feeding enthusiasts.
LITITZ, PA (PRWEB) April 21, 2016
Perky-Pet®, a leading manufacturer of quality bird feeders and bird feeding accessories for nearly 60 years, announces the launch of a new, interactive website with dynamic, user-friendly features.
The updated site provides bird lovers and bird feeder fans alike with a custom experience designed to help them quickly and easily find bird feeders and accessories to meet their individual needs. Comprehensive how-to articles, instructional videos and expert tips are also on tap for visitors seeking to enhance their bird feeding experience and expand their knowledge of birds.
"Given the brand's broad product offerings and expansive knowledge base, we wanted to develop a website that would serve as a single, go-to resource for bird-feeding enthusiasts," says James Kelly, Category Segment Specialist at Perky-Pet. "Visitors to our new site will enjoy a robust user experience with smarter, faster navigation, improved search features, a superior mobile experience, as well as some terrific reward benefits for both new and returning customers."
Key features of the new site include:

Advanced search capabilities. Customizable product filtering provides visitors with the ability to choose exactly what they're looking for. Search by features such as product type, feeder capacity, species attracted, material and price.
Enhanced mobile experience. Browse birdfeeders.com on your mobile device anytime from anywhere. Make a purchase, check the status of an order, follow hummingbird migration or identify the birds in your backyard - all while on the go.
Upgraded reward program. Earn Perky-Pet reward points and spend them on any item at birdfeeders.com. Participants quickly rack up points when they sign up, place online orders, submit media, and invite friends to register and checkout online.
Bulk pricing on bird feeders. Now, the more feeders you buy, the greater the savings. With discounts ranging from 10 percent off for two or more feeders to 20 percent off for five or more feeders, bird feeding fans can reap significant savings on their favorite feeders.
"Whether you're searching for that perfect hummingbird feeder for your backyard, or you simply want to learn how to choose a bird feeder, we encourage you to visit birdfeeders.com," says Kelly. "We've provided interactive tools and comprehensive resources to help you find exactly what you're looking for."
# # #
About Perky-Pet®
Perky-Pet® brand is a trusted name to bird lovers, with high quality, functional feeders that address the demands of both bird hobbyists and enthusiasts alike. A good resource for just about every wild bird need is right at your fingertips. Visit the Perky-Pet® website to learn more about bird watching, bird feeding tips and tools, and ways to attract birds. Perky-Pet® is a registered trademark of Woodstream Corporation, a long-standing, privately-held company and leading manufacturer of quality-branded caring control products for pets and wildlife, natural solutions for lawns and gardens and wild bird feeding products. For more information visit http://www.birdfeeders.com/.