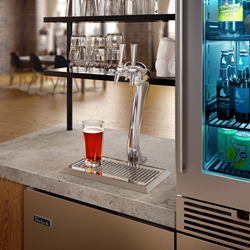 "As the first decorative beer tower for residential use, the added beauty and functionality the Adara tower brings to Perlick's indoor Signature Series Beer Dispensers is simply unmatched." – Tim Ebner, Perlick VP of Marketing and Business Development
MILWAUKEE (PRWEB) April 28, 2015
Perlick, a leader in innovative, high quality undercounter refrigeration, today announced the addition of the industry's first decorative beer tower for residential use as an upgrade for its line of indoor Signature Series Beer Dispensers. The new Adara Signature Beer Tower balances innovative beer dispensing technology with an eye-catching design aesthetic, adding unparalleled style to Perlick's 15" and 24" indoor Signature Series Beer Dispensers.
"After adding Perlick's award-winning, patented 650SS Forward Sealing Flow Control Faucet as a new standard feature for our entire line of Signature Series Beer Dispensers, we decided to push the envelope even further by adding European influenced design to our residential beer dispensers," states Vice President of Marketing and Business Development at Perlick, Tim Ebner. "As the first decorative tower for residential use, the added beauty and functionality the Adara tower brings to Perlick's indoor Signature Series Beer Dispensers is simply unmatched."
Features of Perlick's new Adara Signature Beer Tower include:

Entire tower is insulated and air-cooled to keep beer cold from the keg to the faucet
Configured with Perlick's patented, GOOD DESIGN® Award winning 650SS Flow Control Beer Faucets
Chrome finish with matching chrome tap handle(s) – creating a bright monochromatic look
One faucet model available for Perlick's 15" indoor Signature Series Beer Dispensers
One and two faucet models available for Perlick's 24" indoor Signature Series Beer Dispensers
Measures 16 1/8" tall
For more information about Perlick's new, industry exclusive Adara Signature Beer Tower visit perlick.com/residential-products.
ABOUT PERLICK®
Family owned since 1917, Perlick's award-wining, high quality residential product line features innovative indoor and outdoor undercounter refrigerators, wine reserves, freezers, freezer and refrigerated drawers, ice makers, and beer dispensers. A Milwaukee, Wisconsin based manufacturer, Perlick is dedicated to providing innovative, quality customizable food and beverage storage and serving solutions. To learn more, visit perlick.com or call 800-558-5592.