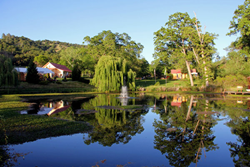 Sampling the Yoga tradition at this unique yoga ashram will help students better appreciate the connection between spirit and the natural elements that surrounds us at all times." — Bill Wilson, Nationally Recognized permaculture Instructor
Davis,California (PRWEB) March 23, 2014
Like Yoga, Permaculture is essentially a spiritual approach to living consciously, harmoniously and healthfully on the planet. "We can heal this planet. We can live lightly and we can live well. We can each make a difference... a big difference". For more information, please visit: http://bit.ly/1dkNIwe.
For the sixth year, the Yoga and Permaculture design certificate is being offered at the Yoga Farm by Bill Wilson from Midwest Permaculture. This course will not only deliver the foundational educational experience for understanding permaculture design and earning a permaculture design certification, but all involved will have the unique opportunity to experience it within the context of a practicing Yoga community.
The Yoga Farm also hosts a Yoga Nidra course, courses on Yogic philosophy, Yoga for back pain and ayurvedic retreats, and an advanced teacher's training course (ATTC). The Advanced Yoga Teacher's Training Course helps graduates to deepen their spiritual practice and their study of Hatha yoga, Vedanta philosophy, Raja Yoga, anatomy and Sanskrit. The advanced class gives students an additional chance to practice under guidance in a supportive atmosphere, which provides many with a boost of energy and clarity.
Students involved will have the unique opportunity to experience it within the context of a practicing yoga community. Part of creating an integrated permaculture design includes learning to honor place. Sampling the yoga tradition at this site will help students better appreciate the connection between spirit and the natural elements that surrounds us at all times. Students who complete this design course receive the world recognized Permaculture Design Course 'Certificate of Completion'.
Permaculturists can grow food just about anywhere,repair environmentally damaged lands,design lovely and long lasting green-buildings, produce power, run successful, people-oriented businesses, and build authentic community -all by using the same fundamental permaculture principles.
Permaculture is a lot more than just food production. A thorough study of permaculture invites us to look at our homes, our uses and sources of energy, our methods for providing food and comfortable shelter, our work, our relationships with others, and even our relationship with ourselves.
About Sivananda Ashram Yoga Farm (Yoga California)
In 1971, Swami Vishnudevananda returned to California and founded the third ashram in the young Sivananda International organization: the Sivananda Ashram Yoga Farm on 40 acres of land located in the Gold Country of the beautiful Sierra Nevada Foothills in Northern California. The non-profit, non-sectarian ashram offers yoga classes, retreats and teacher training courses for students of all abilities. The ashram is led by Swami Sitaramananda. For more information, please visit http://www.sivanandayogafarm.org The ashram also organizes a Sivananda Yoga teacher training course in Vietnam.