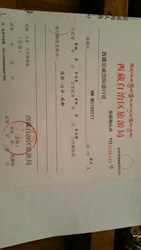 Travel Tibet with a local Tibet tour agency!
Lhasa, Tibetht (PRWEB) March 22, 2015
When researching what it takes to get a Tibet travel permit, also know as a Tibet visa, the details can, at first, seem overwhelming. Travelers must have a permit to enter Tibet and sometimes additional documents are needed on top of that, depending on tour destinations. Tony of Tibet travel agency Tibet Ctrip Travel Service (TCTS) (http://www.tibetctrip.com) has been operating tours of Tibet for over ten years and explains how obtaining a travel permit can actually be a straightforward process.

Although multiple permits can be required, TCTS will take care of the applications and include any applicable fees in the tour price. For travel to Lhasa, only one Tibet travel permit is required. Traveling outside of Lhasa will require an additional permit and there are other documents needed for areas like Everest and Kailash.
No later than 10 days before the tour start date, travel groups will need to submit copies of their passport and Chinese visa along with some personal information. To make sure the application process goes smoothly, be sure all information supplied to TCTS matches the passports and visas exactly.
Groups coming from Nepal will meet their guide at the border crossing or airport; the guide will have the permit and assist travel groups with the immigration procedures. If you are arriving in Tibet from Mainland China, the group will need to supply TCTS with an address, such as a hotel, for the permit to be sent.
Fortunately for travelers, a licensed Tibet travel agency is required to handle all application procedures. In addition, the group's guide will retain possession of the Tibet travel permits throughout the tour, so there is no need to worry about keeping multiple travel documents safe. As long as travelers supply the accurate information within the requested time frames, obtaining a travel permit can be an easy, hassle free, process.