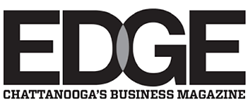 We like to think of ourselves as the perfect solution for the independent software vendor (ISV) that just got funded.
CHATTANOOGA, Tenn. (PRWEB) January 10, 2019
Perri Marketing Inc., Chattanooga based technology marketing agency, was recently profiled in the Edge, the Chattanooga Times Free Press's business magazine, as an emerging business in the area's growing technology sector. The Edge is the Times Free Press's business magazine geared towards reporting on the city's growing entrepreneurial scene.
The article, written by Times Free Press Business Editor Dave Flessner, profiled Perri Marketing's founder and CMO, Tony Perri as one of the area's up-and-coming business owners who moved to Chattanooga to be a part of the technology boom the city has experienced thanks to the introduction of the city-owned gigabit network. One of the first city-owned fiber internet services, run by Electric Power Board of Chattanooga, has now given Chattanooga the nickname "Gig City," and it's also responsible for bringing a new kind of industry to the region.
"It was a pleasure to meet Dave, and be featured in the Edge magazine," said Perri. "I moved my company here for the quality of life, and growing business opportunities Chattanooga offers, and I was happy to share this story of opportunity with the Times Free Press and my peers in this community."
Flessener's piece focused mainly on Perri Marketing's business model featuring Marketing as a Service, and why Perri chose to move his business to Chattanooga. Similar to how many of PMI's clients sell Software as a Service or SaaS, PMI offers a full-service outsourced marketing department to clients to help with as much, or as little, as each client needs at any given time. A Typical PMI customer has been funded or bootstrapped to the $1 million to $10 million revenue range.
"We like to think of ourselves as the perfect solution for the independent software vendor (ISV) that just got funded," said Perri. "Small start-ups may not have the resources or are unsure of when to hire a marketing team, so we are a perfect complement with our services without the time and investment required to onboard multiple in-house, full-time marketing hires."
PMI recently moved to the Hamilton County INCubator where the company will work alongside with other, similarly sized start-ups. In addition to the physical move of the business's location, Perri Marketing has added to its services offering and now sells a CRM and marketing automation software called SharpSpring. This development now brings Perri Marketing into the space with a competitive solution that can compete with HubSpot, Pardot, Marketo and other leading CRM/MA vendors. The transition will be an easy one with Perri's 20 plus years leading marketing teams and strategies for software companies.
Perri is an active member of the business community and plans on growing and helping others grow in 2019. As a part-time mentor for the city's start-up incubator, GigTank, and optimistic business owner, Perri sees himself staying in the area for years to come.
"The choice to move Perri Marketing to Chattanooga has been instrumental in helping me grow my business. The city's small-town charm makes networking easy, yet its proximity to larger markets like Atlanta and Nashville are proving to provide more room for growth and opportunity. It will be exciting to see both my business and this community grow in the coming year."
About Perri Marketing Inc.
Perri Marketing, Inc. is a technology marketing agency that specializes in sales-enablement content for Independent Software Vendors selling enterprise solutions into the Fortune 1000. We have more than 20 years of experience in software sales and marketing, and with this expertise, we offer what is known with clients as Marketing as a Service. Much like you would utilize Software as a Service or IT as a Service, Marketing as a Service is what Perri Marketing sees as a perfect business investment for ISVs. More information can be found at https://perrimarketing.com