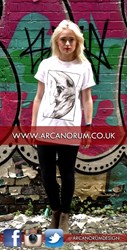 The Arcanorum brand uses contemporary British art and design on carefully considered original urban clothing. - Perry Robbins, Founder of Arcanorum
Sheffield, Yorkshire, England (PRWEB) September 12, 2013
Arcanorum, an apparel brand that uses contemporary art on original urban style t-shirts, recently released three new designs.
Founded by Perry Robbins in 2012, the brand began by launching two high quality original t-shirt designs.
"The Arcanorum brand uses contemporary British art and design on carefully considered original urban clothing," said Mr. Robbins. "We strive to deliver artwork that is both provocative and stylish."
Arcanorum means "The mystery of mysteries, the one ultimate secret that is supposed to lie behind all astrology, alchemy, and magic".
"Specific attention has been paid to the shape and cut of our garments and we use materials that stand the test of time and achieve the comfort only the highest quality can provide," Robbins continued. "Our t-shirts are 100% cotton in a loose weave to give a soft texture."
In the near future Arcanorum is planning a series of sweatshirts and woolen products as well as casual collared shirts.
Read the full article here: http://iloveyourtshirt.com/new,Arcanorum
Follow Arcanorum here:
facebook.com/arcanorumdesign
twitter.com/arcanorumdesign
instagram.com/arcanorumdesign#