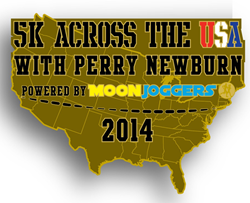 Doing a little good along the way and inspiring a few would-be runners to become life-long runners will be an added bonus.
American Fork, UT (PRWEB) September 24, 2014
Can you imagine running 50-70 miles in one day? What about doing that for 46 straight days across the USA? Most of us probably have images of a long bearded Tom Hanks from the movie "Forrest Gump" run through our minds when we think of running that far and for that long, while others may just have images of swollen ankles, throbbing knees, and broken toenails.
Well, just as the world has celebrated 20 years since the release of Forrest Gump, that is exactly what Perry Newburn, 59, a member of the online running group Moon Joggers, is attempting to do in order to break the record for the fastest coast-to-coast run across the United States, which was set in 1980 by a 28-year-old, Frank Giannino Jr., who did it in 46 days, 8 hours, and 36 minutes. Oh, and by the way, Perry will be turning 60 during his run.
Perry's historic run began September 1, 2014 at New York's City Hall in New York City and will end around October 16, 2014 in Los Angeles, California. So far Perry has crossed through New York, New Jersey, Pennsylvania, Ohio, Indiana, and is currently in Illinois and has been fueled by tinned salmon and Coca-Cola during his first couple of weeks. Follow his historic run on FaceBook for daily updates and to see if he will be running through your town at Facebook.com/RerrysRunAmericaIn50Days.
The organizer is hoping to finish the run in Disneyland since Perry has never been there so he could meet Mickey Mouse. In fact, this is Perry's first time to the US. He is from Fielding, New Zealand, where just last year he did a 70-day run around New Zealand (close to 3,100 miles). Disneyland is known to make dreams come true and there is not a more fitting place to finish a run that has been a dream of Perry's for some time now.
"I turn 60 next September, so I wanted to do something in 2014 that would push me," said Newburn. "After running around New Zealand, there wasn't anything left of that magnitude here. But I followed Dean Karnazes when he ran across the U.S. and read Marshall Ulrich's book of his record-breaking run, so this has been a dream of mine for a few years. Doing a little good along the way and inspiring a few would-be runners to become life-long runners will be an added bonus."
Perry's run likely would not have happened had he not gotten involved with an online running group called Moon Joggers. That is where he met Angie Webb, who started the group back in 2012. Perry and Angie have been in correspondence for some time about Perry doing this historic run, and they are now right in the middle of seeing it happen.
Perry's world record run from NY to LA is a huge undertaking and involves a great deal of organizing and logistics. Other attempts, like Frank Giannino's, were well funded and the runner's had a crew that came along with them. Perry, on the other hand, has had a couple sponsors help with some costs, and his "crew" consists of Angie, who is the driver and organizer of the run, and a couple of local volunteers along the way. Many members of Moon Joggers are planning on reaching out and joining Perry for a run, or giving them accommodations along the way.
In honor of Perry, Moon Joggers is hosting a virtual event called "5k Across the USA" to help support Perry and pay for traveling costs. They are looking for 1,000 people around the world to sign up and commit to running a 5k between September 1 and October 31. Sign up at http://www.moonjoggers.com/5k-usa/. Perry is running the equivalent of 1,000 5k's during his run across the USA.
Perry is running across the USA to raise funds for two children's charities and invites fans and supporters to donate what they can to these great charities.
About Koru Care New Zealand
Koru Care (NZ) is a registered charitable trust. Their volunteer team work for no financial reward, donating time and expertise to make dreams come true for kids who have drawn the short straw. In some cases they have cancer, kidney disease or heart problems, in other cases they have lost the use of their limbs or have serious congenital abnormalities. But they still have the capacity to smile, laugh and create good memories; they just need someone to wave the magic wand. Often, an injection of enjoyment helps to change a child's outlook, which can improve day-to-day life. In making dreams come true for sick and disabled kids, they're also helping their families.
Make donations to Koru Care at http://www.givealittle.co.nz/cause/RunningForKoru. 100% of donations will go to the foundation.
About Sunshine Heroes Foundation
Sunshine Heroes Foundation is a nonprofit organization whose mission is to improve the mental and physical well being of children throughout the world by serving, supporting and enhancing human life. They have projects, grants and other ways in which Sunshine Heroes Foundation improves the lives of children around the world.
Donate to Sunshine Heroes by visiting https://www.justgive.org/perrysrun. 100% of donations will go to the foundation.
Cheer Perry on and stay tuned for updates about his historic journey across the USA.