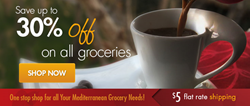 Los Angeles, California (PRWEB) May 22, 2015
Renown as one of the top online grocery stores that specializes in Persian, Middle Eastern and Mediterranean groceries. Persian Bazzar has recently unveiled its latest line of exotic food products from well known food brands like Sadaf Foods, Golchin, Shemshad and many more.
Popular products amongst Americans are also offered by Persian Bazzar, such as saffron and different kinds of tea and coffee.
Persian Bazzar is now offering complimentary shipping with the orders of $99 or more. This simple-to-use website helps shoppers to find the products the want fast and easy and persianbazzar.com's founders are proud of making their customers satisfied. Bazzar is pleased to offer its entire range of groceries through this popular portal.
One of Persian Bazzar's (http://persianbazzar.com/) latest inclusions is Golden Star, a large retailer of Kitchenware and home electronics such as Electric Rice Cooker, Electric Stainless Steal Samovar, Coffee Maker, Turkish Coffee Cups and many more.
The partnership between Persian Bazzar and their well known vendors marks a new era of easy-to-order Persian and other ethnic food products in and around the United States and internationally.
At persianbazzar.com home chefs, restaurant owners and anyone else with the love for ethnic food no longer have to purchase ingredients from various outlets or in some cases do without certain items because of their scarcity. All it takes is several clicks online and everything will be delivered as advertised.
Besides Golden Star, this Mediterranean grocery store is also proud to introduce other labels to its shoppers. Some of the store's most popular brands include Ahmad Tea, Araz Bakery, Do Ghazal, Mama's Sweet Bread, Rex and Shemshad. With fresh foods like whole wheat pita bread and sour cherry juice available for the taking, nothing is lacking when it comes to Persian Bazzar's extensive list of delicious offerings. Additionally, buyers have attested to the fact that non perishables such as fenugreek leaves, sour tamarind paste, pickled cucumbers and other popular Mediterranean ingredients have never been easier to procure.
Shoppers can place their orders in this Persian grocery store by either going to their website at https://persianbazzar.com/, or by calling them at 1-877-535-4581 and placing their order over the phone.