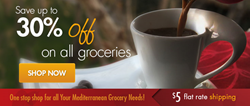 Los Angeles, California (PRWEB) December 31, 2014
Persian Bazaar is an online grocery store that specializes in Mediterranean food. The company's recent announcement that it will be carrying Golden Star food products is a welcome addition to its already burgeoning portfolio of fine foods.
Golden Star is a family owned business that has taken the food industry by storm. Established more than three decades ago, Golden Star is now one of the top ethnic Eastern European food distributors in the country. From smoked fish to confectionary, the addition of Golden Star to Persian Bazzar's line of import food products is a welcome addition to this online Mediterranean speciality store's extensive product list. Golden Star is set to join the likes of other speciality food labels currently sold through Persian Bazzar such as Golchin, Edna, Ahmad Tea, Royal and Sadaf.
One of the biggest problems faced by home chefs is the inability to procure all the necessary ingredients for a Mediterranean meal under one roof. Now, Persian Bazzar customers get to enjoy an even larger variety of speciality foods without the need to visit multiple stores or websites to get everything they need. Shoppers can now order everything from teas to seasonings and get everything conveniently delivered to their doorstep.
Besides the introduction of one of the most sought after labels in the food business, there are several other reasons why Persian Bazzar is poised to become the next big thing in the world of online grocery stores.
Door-to-door Delivery
Customers need not worry about getting into their car and driving to the logistics facility to pick up their orders. For a flat rate of $5, Persian Bazzar will ship the order directly to their customer's doorstep. The company even offers international shipping for customers based outside the United States. Customers can also track their orders to ensure that transit and delivery are carried out without a hitch.
Flexible Return & Exchange Policy
Items can be refunded or exchanged within seven days from the date of delivery. In the case of perishables, customers are given 48 hours. This does not apply to items that were opened. In the case of damaged or defective goods, all customers have to do is contact Persian Bazzar's customer service team and follow several simple instructions to get a full refund or replacement.