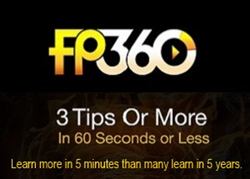 Social media is not to sell you, is to help you generate relationships with all the other influential people you need in your connection base.
(PRWEB) May 21, 2014
Having great influence is desired by many, but only a handful achieve. Being an influencer gives people a head start in becoming a successful leader in life. Influence is often considered an innate ability of charismatic people, but Full Potential with its latest how-to video reveals a long-overlooked reality; that great influence is the result of strategic practices consistently implemented.
With the help of Teresa de Grosbois, chair of the Evolutionary Business Council, people watching this video at FP360.com learn the first and most vital step in becoming an influencer. People cannot expect to exert influence out of thin air, they need to work for it. Those seeking to become influential need to benefit others with their knowledge, expertise, and insights. By giving wholeheartedly to people, they become more eager and open to receiving one's ideas and opinions. Gradually, generosity makes people more trustful and eager to follow an individual, establishing influential status.
The latest Full Potential video also focuses on the misuse of social media and shares the best social media practice that can generate positive word of mouth and help brands and individuals become key players in their niche.
As Teresa de Grosbois asserts in her video, "Social media is not to sell you, it's to help you generate relationships with other influential people you need in your connection base."
Businesses and professionals often misunderstand the purpose of social media considering it a channel of blatant self-promotion. However, social media is a communication medium for establishing relationships with like-minded people and together increasing influence through co-promotion, engagement and consistent interaction with one's community.
The succinct "How to Influence People" video is a must-see for anyone who seeks to amp up their influence and create a devoted network of collaborators, clients and friends.
For more personal and professional insights, visit FP360.com viewers a tip on how to leverage professional relationships and increase influence over others.
About FP360
FP360 is a daily positive programming philosophy that allows people to reach the top in the 7 most significant aspects of their lives; physical, mental, social, financial, emotional, spiritual and environmental. FP360 is a sister company to Full Potential offering free, expert advice on how to realize one's full potential.
###
Contact:
Mark Harai - (303) 800-0944/ mark(at)markharai(dot)com
James Rick Stenson – (302) 233- 7116/ james.stinson(at)fullpotential(dot)com