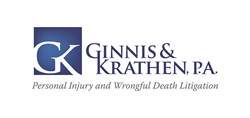 I am honored to be a part of this prestigious trial lawyer group, but helping my clients receive justice and peace of mind is really the most important aspect to me
Fort Lauderdale, FL (PRWEB) November 26, 2013
Ginnis & Krathen, P.A. is pleased to announce that personal injury attorney Eric Ginnis has been certified as a member of the Multi-Million Dollar Advocates Forum. Membership of this exclusive trial lawyer group is limited to attorneys who have won multi-million dollar verdicts, awards and settlements.
According to court documents, back in March 2011, the Martinez brothers slowed to avoid a tractor-trailer accident that occurred in front of them when another tractor-trailer hit them from behind, sending their truck into a wooded area and causing injuries to both Jose and Luis Martinez. Multiple injuries to their spines and extremities required surgery, and their combined medical bills totaled more than $1.2 million. Neither brother has been able to return to work since the auto accident.
"I am honored to be a part of this prestigious trial lawyer group, but helping my clients receive justice and peace of mind is really the most important aspect to me," says Mr. Ginnis. He was invited to join the Multi-Million Dollar Advocates Forum after winning the $2 million settlement against the insurance companies for A-1 Duran and First Coast Logistics Services, Inc., both defendants in the case (Nineteenth Judicial Circuit Court of Florida; Case no: 12-1751 CA).
Mr. Ginnis is also a lifetime member of the Million Dollar Advocates Forum of which less than 1% of U.S. lawyers are members. The organization was founded in 1993 and currently has about 4,000 members nationwide. Admission to the group requires that an attorney must have acted as principal counsel in at least one case in which his or her client received one million dollars or more as part of a verdict, award or settlement.
Members of the Multi-Million Dollar Advocates Forum must be Life Members of the Million Dollar Advocates Forum, in addition to receiving a multi-million dollar verdict, award or settlement for a client of which he or she was the principal counsel.
About Ginnis & Krathen, P.A.
Ginnis & Krathen is a personal injury law firm located in Ft. Lauderdale, Florida. As a boutique firm focusing on personal injury claims, including all areas of negligence, accidents and wrongful death, we are committed to providing our clients with quality, personalized representation that you won't find at a large personal injury law firm.