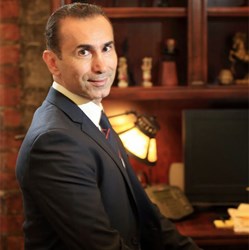 We don't make empty promises, we deliver results.Mresriani Law Group
Los Angeles, CA (PRWEB) December 12, 2013
Top personal injury attorney, Rodney Mesriani, Esq., expresses his condolences to the family and friends of the late Hollywood star Paul Walker and his business partner who were killed in a fiery car crash in Southern California on Saturday.
On Saturday, November 30, 2013, in the most shocking and highly publicized car accident reported in recent years, actor Paul Walker, who was widely known for his role in the "Fast & Furious" franchise, died in the fiery crash in Southern California. According to Alan Duke of CNN, Walker was in the passenger seat of a 2005 Porsche Carrera GT, driven by a racing team partner, that slammed into a light pole and burst into flames in an office park in the community of Valencia in Santa Clarita, about 30 miles north of Hollywood. The report goes on to add that, "Speed was a factor in the crash, the Los Angeles County Sheriff's Office said. A 45 mph speed limit sign was attached to the light pole knocked down by the Porsche."
Similarly, Justin Pritchard Jake Coyle of the Associated Press, published on Monday, December 2, 2013, also wrote that "Sheriff's deputy Peter Gomez said investigators were trying to determine how fast the car was travelling and what caused it to go out of control, including whether the driver was distracted or something in the road prompted him to swerve." (Paul Walker died in area known for street races)
Expert Los Angeles personal injury law firm headed by Rodney Mesriani, Esq., wants to put across to all motorists that nobody is exempted from harm when it comes to errors in driving and that, as shown by the recent car crash, car accidents can happen to anyone and may affect not only drivers, but even passengers and pedestrians alike. He also identifies the usual factors or causes of car accidents that every motorist should look out for, to include:

Bad weather conditions;
Damaged streets/roads;
Human error;
Poor vehicle maintenance; and
Violations of street rules and regulations.
Since there are a lot of factors that could be involved in the happening of car accidents, Mr. Mesriani provides essential tips on what to do immediately after the accident, in order to be able to claim damages against the negligent party, to include the following:
1. Gather evidence of the accident by taking pictures of the accident scene and damage to your vehicles;
2. Exchange insurance information with the other party;
3. Obtain information of possible witnesses;
4. Call police authorities to investigate the scene of the accident;
5. Obtain copies of CCTV footage of the accident;
6. Keep track of your medical expenses and all other out-of-pocket expenses relative to your treatments; and
7. Obtain employment records showing your loss of earnings and absences due to your need to go to treatments.
"By keeping in mind the above things to do after your auto accidents, you'll be on your way to a speedy and successful recovery of your car accident damages and losses", says Mr. Mesriani.
Mesriani Law Group's skilled Los Angeles personal injury lawyers have been representing all victims of car accidents and other personal injury accidents even in cases of deadly car crashes, bike and bicycle accidents, motorcycle accidents, pedestrian accidents or truck accidents, bus accidents and train accidents for over two decades now. As of date, the well respected car accident attorneys of Mesriani Law Group have obtained hundreds of millions in awards on account of their decades of successful personal injury practice in Los Angeles and throughout California.
About Mesriani Law Group, P.C.
Mesriani Law Group, is a Los Angeles, California based personal injury law firm founded by Rodney Mesriani, Esq., which specializes in handling all types of injury related accidents such as auto accident, truck and bus accident, motorcycle accident, bike accident, hit and run, drunk driving accident, uninsured motorist claim, slip and fall, pedestrian injury, construction injury accidents, premise liability, dog bite attacks, brain injury, spine injury, burn injury, pool drowning accident, product liability, wrongful death claim and even boating accident and aviation accident claims.
Mesriani Law Group's top auto accident attorneys in California offer aggressive legal representation against the party at fault, whether the vehicle accident is private, commercial or government in nature, with extensive grasp of vehicle accident laws in California, as well as years of experience in dealing with all types of car insurance coverage's. The law firm's best Los Angeles personal injury lawyers are based in 5732 Melrose Ave., Suite 120, Los Angeles, CA 90038. To learn more about the firm, call 1.866.500.7070 for a free case evaluation or email them or take advantage of their free on-line case submission.