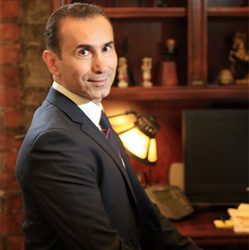 Rodney Mesriani - Mesriani Law Group
Los Angeles, CA (PRWEB) April 09, 2014
Best Los Angeles personal injury lawyer, Rodney Mesriani, Esq., is saddened by the wrongful death of one person and the hospitalization of the other two motorists resulting from a two car crash by the train tracks in downtown Los Angeles early Saturday morning.
In the most recent fatal auto accident reported on 15 February 2014, a fatal accident slowed traffic in downtown Los Angeles where two cars crashed at the intersection of Pico Boulevard and Flower Street shortly after 2:30 a.m. KABC-TV Los Angeles, CA reported that a total of three people were transported to an area hospital, where one of the victims was pronounced dead. The vehicles ended up on the train tracks causing some delays to the Metro Blue Line. Investigators are said to be looking into whether or not alcohol was a factor in the incident.
Expert Los Angeles personal injury law firm headed by Rodney Mesriani, Esq., cautions all motorists in operating their vehicles especially during the early hours of the morning where most car drivers are already tired from the whole day's affair or are already sleepy because of the long hours on the road. Worst, car drivers might often encounter other motorists who may be under the influence of alcohol as they are coming home from the clubs or bars in Los Angeles. (News Source)
"Car accident is very devastating to the families of the victims, especially to the one who untimely and unnecessarily lost his life due to the negligence of the driver(s) involved in the auto accident. This is why I always stress that it is of utmost importance not only to be very careful in making sure that you are very defensive in operating your vehicles but you should also be aware of the steps you can take to protect yourself and your rights to claim damages against the party at fault," opined Mr. Mesriani.
According to Mr. Mesriani of Mesriani Law Group, it is very important to remember the following steps to take immediately after being involved in traffic accidents, which include:

Collecting contact information from the other driver involved and from anyone who may have witnessed the accident;
Taking photos of the damage to the vehicles involved, the place of the accident and your injuries;
Calling police authorities to investigate the accident;
Writing down everything you remember about the auto accident before you forget the details;
Calling paramedics to get emergency treatments or going to the ER to get timely medical evaluation and treatment; and
Seeking legal advice from your trusted personal injury lawyer or law firm.
"KABT-TV's report mentioned that the reason(s) for the car collision is still being investigated and if alcohol played a part in the happening of the fateful accident. By knowing what to do after an accident, the victim(s) of the foregoing car accident may be able to help shed light as to what caused the car crash and who should be made liable for the damages, injuries and pain and suffering suffered by the car accident victims, as well as funeral expenses for the wrongful death of one of the victims", adds Mr. Mesriani.
Mesriani Law Group's diligent Los Angeles, California personal injury lawyers have been representing all victims of personal injury accidents even in cases of fatal car accidents and bike and bicycle accidents, motorcycle accidents, pedestrian accidents or truck accidents, bus accidents and train accidents for over two decades now. As of date, the well respected traffic accident attorneys of Mesriani Law Group have obtained hundreds of millions in awards for all their car accident client victims in aggressively representing them in getting the maximum personal injury compensation they deserve.
About Mesriani Law Group, P.C.
Mesriani Law Group, is a Los Angeles, California based personal injury law firm founded by Rodney Mesriani, Esq., which specializes in handling all types of injury related accidents such as car accident, truck and bus accident, motorcycle accident, bike accident, hit and run, drunk driving accident, uninsured motorist claim, slip and fall, pedestrian injury, construction injury accidents, premise liability, dog bite attacks, brain injury, spine injury, burn injury, pool drowning accident, product liability, wrongful death claim and even boating accident and aviation accident claims.
Mesriani Law Group's top car accident attorneys in California offer aggressive legal representation against the party at fault, whether the vehicle accident is private, commercial or government in nature, with extensive grasp of vehicle accident laws in California, as well as years of experience in dealing with big car insurance companies and even large personal injury defence law firms. The law firm's best Los Angeles personal injury lawyers are based in 5732 Melrose Ave., Suite 120, Los Angeles, CA 90038. To learn more about the firm, call (866) 500-7070 for a free case evaluation or email them or take advantage of their free on-line case submission.