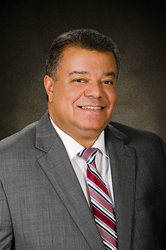 Ernesto brings nearly two decades experience to the firm.
Vero Beach, Florida (PRWEB) January 23, 2017
Graves Thomas Injury Law Group today announced Ernesto L. Luna has joined the firm as an associate attorney in its Vero Beach, Florida office. He represents injury victims and their families in matters of personal injury, social security disability, immigration and criminal law. "Ernesto brings nearly two decades experience to the firm," Founding Attorney Joseph H. Graves commented. "His client-focused approach, combined with our practice expansion to consumer fraud, immigration and ethical criminal defense, greatly increase our ability to meet the legal needs of the Treasure and Space Coasts."
For more than 18 years, Mr. Luna has been providing a broad range of high quality legal services to a wide range of clients, including government, businesses and individuals. He has extensive trial experience, which he gained as a Coast Guard attorney during his eight years with the Coast Guard Judge Advocate General Corps. Mr. Luna also prosecuted and defended criminal cases at the state level, working as a Special Assistant Attorney General for the State of Rhode Island, an Assistant Public Defender for the Eighteenth Judicial Circuit, and Assistant Regional Conflict Counsel for the 4th district.
Mr. Luna is a member of the Florida Bar Association. He earned his Juris Doctor from Roger Williams University School of Law in Bristol, Rhode Island and is fluent in Spanish.
About Graves Thomas Injury Law Group
Graves Thomas Injury Law Group is an injury law firm dedicated to representing individuals and family members impacted by a serious injury, illness or disability. For more information about Graves Thomas Injury Law Group, visit gravesthomas.com or call 772.569.8155.