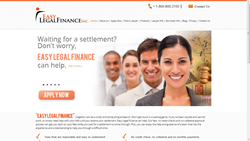 The terms have been set keeping in view the interests of the plaintiffs. No need to repay the loan for 6 months will help to keep the stress off, enabling them to focus on the case
Toronto, Ontario (PRWEB) March 12, 2014
Easy Legal Finance Inc. has set the minimum term for the personal injury litigation loans at 6 months. However, there is no cap on the maximum term. No monthly or interim payments are required until the personal injury settlement or proceeds from successful litigation are received by the plaintiff.
"The terms have been set keeping in view the interests of the plaintiffs. No need to repay the loan for 6 months will help to keep the stress off, enabling them to focus on the case. As the repayment is directly deducted from the settlement and there is no need for monthly repayment, there is no ongoing financial burden on them. They can use the loan to pay off their expenses, while their lawyer will take care of the repayment once the settlement is received," commented a senior executive with the company.
Personal injury plaintiffs can request a loan in a straightforward manner. They can fill out the application quickly and securely online and submit it with a click. No collateral, credit check, income verification or proof of employment is involved in sanctioning of the loan and the sole criterion is the merit of the case and whether it will stand the scrutiny of the court. Representatives of Easy Legal Finance Inc. discuss details of the case with applicants' lawyer before arriving at a final decision.
Once the loan is approved, the company ensures that the terms precisely meet the requirements of the clients. The executive added, "There is one interest rate for the whole term of the loan. At no point in the whole duration of the loan will the client face an increase in interest rates. There is no cost apart from the administration fee of $375 plus applicable taxes, which is payable only after the loan in sanctioned and not at the time you apply."
Litigation loans sanctioned by Easy Legal Finance Inc., a prominent name in litigation funding in Toronto, Canada, do not require monthly payments so that the clients can focus on immediate financial requirements rather than worry about the repayments. In the event that a client loses a case and no proceeds are received, there is no need to pay back the loan. Here is more information on litigation financing solutions for the Canadian market.
About the Company
Easy Legal Finance Inc., counted among the top personal injury settlement companies in Ontario, does not require proof of employment, verification of household income or collateral. Approval is based simply on the case merits. Applications are reviewed at the earliest opportunity and a decision taken within 24-48 hours upon receipt. As one of the leading new Canadian finance settlement agencies, they offer quick loans to clients.
Contact Information
Easy Legal Finance Inc.
TD Canada Trust Tower
161 Bay Street, 27th Floor
PO Box 508 Toronto Ontario M5J 2S1
1-866-800-2100
1-888-209-9330
Email: info@easylegal.ca
Website: https://www.easylegal.ca/