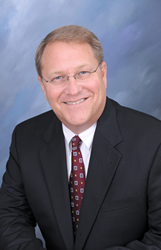 This is really a dream come true. Joe has built a thriving law practice by doing the work right and genuinely caring about the people he serves.
(PRWEB) February 28, 2014
Graves Injury Law Group today announced that Attorney Bill Foster, the outgoing Mayor of St. Petersburg, Florida's fourth largest city, has joined the firm in its Vero Beach Law Offices. Bill joined his lifelong friend and fellow St. Petersburg native, Joseph H. Graves, founding member of the Graves Injury Law Group. Foster concentrates his practice in the areas of injury law, estate planning, real estate, and commercial litigation.
Bill Foster commented, "This is really a dream come true. Joe has built a thriving law practice by doing the work right and genuinely caring about the people he serves. That mindset has been the foundation of my career as a lawyer and a public servant." Foster continued, "As a practicing attorney, I will continue to serve the people of Florida. Whether in Vero Beach, St. Petersburg or any city in Florida, I will use my skills to level the playing field for the under resourced."
Joe Graves states, "We are very fortunate to have Bill joining our law firm. He's an excellent lawyer and he always finds new and innovative ways to meet the needs of the community. Already, we are planning a Veterans' Law Day for the Veterans in St. Petersburg and Vero Beach. On Veterans' Day 2014, our attorneys will be available to local Veterans in both cities. We'll host them, we'll feed them, we'll meet with them regarding any legal need they have and we won't charge them a dime." Graves finished, "Bill's a lifelong friend. We share similar backgrounds and all but identical outlooks on what the practice of law can and should do in and for the lives of the people in our community. Childhood goals really do come true."
Bill Foster's mayoral term began in 2010. His last official day was January 2, 2014. During his term, Foster navigated the City through the recession, leading it to new heights in growth and economic development. He was instrumental in the creation of Pinellas Safe Harbor, a countywide shelter for the homeless, which soon became one of the largest in the State. Mayor Foster also focused on the arts, and St. Petersburg welcomed the Chihuly Collection and a new $36 million Salvador Dalí Museum. For three consecutive years, St. Petersburg was ranked as the Number One Arts Destination among mid-sized cities by American Style magazine. Prior to becoming mayor, Bill Foster spent 10 years serving on the St. Petersburg City Council.
Founded by Attorney Joseph H. Graves, a proud Navy Veteran and a veteran trial attorney, the Graves Injury Law Group is an injury law firm dedicated to representing individuals and family members impacted by a serious injury. The firm is headquartered in Vero Beach, Florida, with offices also located in Port St. Lucie and Wellington, Florida. For more information on the injury law firm, visit http://www.gravesinjury.com.