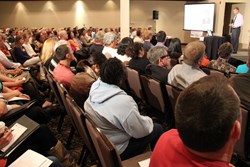 The enriching and empowering event helped participants and investors learn more about the changes in the financial sector and how they can take advantage of the change.
Irvine, CA (PRWEB) November 14, 2013
Bruce Norris, a highly acclaimed and respected icon in the financial sector teamed up with Sense Financial Services and investCLUB for Women in an empowering and enriching seminar. The Norris Group founder imparted his expertise in the investment industry in being the keynote speaker for the Poised to Pop: Quadrant 4 Has Arrived event. According to the event record, the recently concluded seminar with the top notch figure in finance and investment is a huge success. Norris collaborates with another top name in the investment and finance sector, Sense Financial, the renowned provider and administrator of personal retirement plans particularly Solo 401k.
Norris explored in the event some of the realities in the real estate investment niche. Based on sources and remarks from the organizers and participants, there are salient points given light and emphasized in the seminar. He explored the significance of inventory mix, the participation of Wall Street and the meaning of this presence for investors today. There are also salient topics discussed during the talk including deals for real estate investments and in the near future and the domino effects of low interest rates in the industry. Important topics such as small business 401k plans are likewise highlighted during the event.
Individual k and personal retirement plans especially Solo 401 k plan from Sense Financial were likewise imparted to the investors and delegates. The September 18th event was held at Irvine, California at the South Coast Cultural Center. Women and men investors who are looking for the best investment opportunities graced the event. Feedbacks and comments from attendees showed that participants were quite impressed and satisfied about valuable inputs they learned particularly topics such as High Solo 401k limits and other features.
The event organized and brought to reality by three names in the finance and real estate investment industry provided helpful information to aspiring investors and retirees who want to use their personal retirement plans to boost their financial gains through real estate investment. According to attendees, the successful event also opened more networking opportunities and inside information on the latest trends and stats in the financial realm.
About Sense Financial Services:
Sense Financial is California's leading provider of retirement accounts with "Checkbook Control": the Solo 401k and the Checkbook IRA. Over the years, they have assisted hundreds of clients obtain checkbook control over their retirement accounts while providing them with the ability to invest in virtually any investment class, including real estate, private lending, mortgage notes and much more without the need for custodian approval.
To learn more about the solutions they provide, please contact: (949) 228-9393.