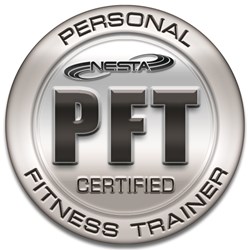 Personal Trainer careers are on the rise despite economic conditions. According to labor statistics, job growth will continue for several years.
(PRWEB) August 21, 2013
Flexing its growing muscles, the personal training industry will continue to offer impressive job growth this decade: According to the Bureau of Labor Statistics' Occupational Outlook Handbook, these positions are expected to grow by 24 percent from 2010 to 2020. Since a certification is a must in the industry, the online Personal Fitness Trainer certification from the National Exercise & Sports Trainers Association (NESTA) offers education and career training for anyone looking to break into the personal training business.
Bringing together a unique blend of personal training principles and business strategies, NESTA's Personal Fitness Trainer certification is valid for four years, rather than the more common two. Further, the NESTA personal trainer certification is the only program accredited by both the National Commission for Certifying Agencies (NCCA) with full National Board of Fitness Examiners (NBFE) affiliation status. More information and an online application is available at http://www.nestacertified.com/personal-fitness-trainer-certification/.
"Personal training is fun, lucrative and it gives you the chance to change lives every single day, making it a great career both today and tomorrow," said John Spencer Ellis, founder of NESTA and John Spencer Ellis Enterprises, a fitness and personal development solutions company. "At NESTA, we are pleased to offer an affordable and flexible online personal training program that is recognized by all major gyms and health club chains while providing the education you need to get ahead in the industry."
The NESTA program now offers an enhanced and interactive digital manual, more than 10 hours of video training, comprehensive audio lessons and more. The goal is to train personal trainers to help clients get in shape safely and effectively, to find a fitness career at a gym of choice, to learn more about training athletes and special populations and to provide information on starting your own personal training business.
"If you want a great way to live your dream and find your passion while finding a career that makes sense in every economy, personal fitness training offers a rewarding career path and a variety of excellent job opportunities," Ellis added.
About the National Exercise & Sports Trainers Association
Since 1992, the National Exercise & Sports Trainers Association (NESTA) has been a leader in innovative solutions for fitness, nutrition and wellness professionals, as well as club owners. Founded by John Spencer Ellis, NESTA now has more than 55,000 members in 55 countries, and it is one of the largest fitness associations in the world, as well as the fastest growing association of its kind in the United States. For more information on the NESTA Personal Fitness Trainer certification, please visit http://www.nestacertified.com/personal-fitness-trainer-certification/ .