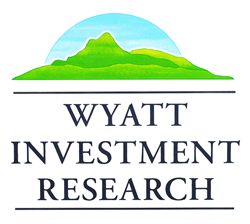 Individual investors deserve a fair playing field. That's not something that they've ever had before…but it's something that we must strive to achieve
Richmond, VT (PRWEB) May 01, 2014
Wyatt Investment Research announced today it will add a new service to its premium line of products aimed at helping investors of all skill levels build and maintain their wealth.
"At Personal Wealth Advisor, our goal is to help individual investors achieve superior returns," said Ian Wyatt, the company's founder and publisher. "This means beating the benchmark indexes, while reducing investment risks and helping them to protect their wealth."
Every issue of Personal Wealth Advisor is packed with actionable investment ideas including growth stocks, small caps, value investments, dividend stocks, sector ETFs, and the top mutual funds. Members can expect a minimum of four new investment ideas in each and every issue!
"The creation of this product was based upon feedback from our readers. They wanted something simple: a single investment research newsletter with a variety of investment strategies, lots of stock picks, and access to our entire team of experts."
Our unique team approach means you can better customize and build your portfolio using a single source of investment research. Rather than subscribing to four of five separate investment newsletter services, you can instead access our entire team of experts for the special Charter Membership price of just $49 per year. That means that you'll spend less on investment research, and have more money to invest.
"I believe that every investor deserves sound investment advice at a reasonable price. And that's why I created Personal Wealth Advisor. This online investment newsletter advisory aims to provide all of the investment research, actionable investment ideas, and wealth building tips that individual investors need."
In addition to this service, Wyatt Investment Research is giving away copies of Michael Lewis' latest bestselling book – Flash Boys: A Wall Street Revolt.
Click here to claim your copy of Flash Boys. Plus, you'll also get two free bonus special reports that show you exactly how to protect yourself – and profit – from the shocking revelations in this book:

10 Strategies for Protecting Your Wealth from Wall Street's Sharks
High Frequency Trading—Free Investing: Making IEX Work for You
Every investor is a victim of the high frequency trading scams that are eloquently described in Michael Lewis' new book. Whether you're invested in a 401(k), own the biggest mutual funds in the world, invest in blue-chip stocks, or trade the market, you're being ripped off. Personal Wealth Advisor is dedicated to protecting investors from the machinations of Wall Street, limiting losses and maximizing gains.
"Individual investors deserve a fair playing field. That's not something that they've ever had before…but it's something that we must strive to achieve," Wyatt concluded.
About Wyatt Investment Research
Wyatt Investment Research is an independent publisher of investment research and investment newsletters. The company provides more than 450,000 individual investors with investment research and analysis of the financial markets through a variety of investment newsletters, blogs, special reports, trading services and e-letters.