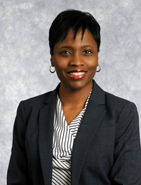 Cleveland, OH (PRWEB) October 03, 2014
In CHAMPS Patient Experience's most recent blog post, Putting the PERSONAL in Personal Accountability, Toya Gorley shares her thoughts on the topic.
Last week Gorley was pleased to be part of the 44th Ohio Cancer Registrars Association Annual Meeting. She spoke to the group there about everyone's role in creating an optimal patient experience – specifically focusing on three things everyone can do:
1. Demonstrate Personal Accountability
2. Make Emotional Connections
3. Practice Effective Service Recovery
Personal accountability is one of her favorite topics to discuss with groups. Accountability is a popular buzzword right now, most often used in the context of holding someone accountable or holding a team accountable. The problem here is we're making the problem about another person or people. Personal accountability – looking at ourselves and how accountable we are as individuals – requires a shift in mindset. It requires an internal focus which gives you control over your own actions and your own success.
The best way Gorley knows how to communicate this shift in mindset is by sharing a personal example…
The other night, a good friend said he'd decided he'd like to lose some weight. "That's great," Gorley said, expecting to hear his plans for shedding some pounds. When he didn't describe his plan for accomplishing this goal, she asked him. He kept things vague, explaining he thought he might start working out at the end of the week. She couldn't help but share some thoughts from her work... "If you really want to meet your goal, you have to take ownership. You have to say, 'I'd like to lose some weight, so I'm going to walk every night after work…or only drink one glass of wine with dinner…or only eat dessert on the weekend.' You have to be specific if you want to be successful."
Personal accountability means taking ownership for getting something done, before you know how it will turn out. Like you read in her example, it requires a shift in mindset, but also a shift in language and behaviors.
Gorley closes her blog by asking readers if they have seen personal accountability improve the outcome of a situation at home or at work.
Contact CHAMPS to invite Toya Gorley to speak at your next event.
In partnership with Santalucia Group, CHAMPS Patient Experience offers a variety of services to enhance the patient experience. Led by Carol Santalucia, a recognized leader in patient experience with more than 30 years of expertise, CHAMPS offers outcomes-based services designed to create an optimal patient experience. We believe providing an optimal patient experience not only makes sense intuitively but also leads to improved healthcare outcomes, increased patient loyalty and an enhanced financial position for our clients. To learn more about us and our services, visit http://www.champspatientexperience.com.