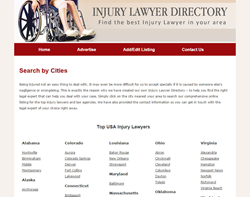 Unlike many legal directories that exist InjuryLawyerDir.com has taken a "less is more" approach
(PRWEB) October 31, 2014
A new directory listing personal injury attorneys has recently been launched at http://www.injurylawyerdir.com. The injury lawyer directory is a listing of top plaintiff's attorneys licensed to practice in the United States and Canada.
InjuryLawyerDir.com understands that it is essential for individuals to find legal representation they can be comfortable with. However, finding a trusted and experienced accident attorney can be a difficult undertaking for many people (especially with the vast number of television commercials, yellow page advertisements, and billboards all promising quality legal assistance).
Personal injury law can be extremely confusing for the average person, and can be further complicated by hard to understand insurance policies and statues of limitations. Individuals who suffer injuries in a vehicle accident, slip and fall, workplace injury or any other kind of injury are often confused with what to do next and if they are entitled to any compensation.
InjuryLawyerDir.com aims to fill this void and provide visitors with a short list of law firms in their city who deal with personal injury cases who they can contact and get their questions answered.
Unlike many legal directories that exist InjuryLawyerDir.com has taken a "less is more" approach. The directory is not cluttered with ads and thousands of law firms, instead under each city visitors can find a short list of lawyers displaying their name or firm name, a short description about what the firm is about along with their location, phone number and website url. Law firms can add their listing to the directory for a small yearly fee.
Finding the right attorney for an injury case is often overwhelming and InjuryLawyerDir.com aims to easier and less intimidating by connecting individuals to the legal representation and advice they desperately need.
InjuryLawyerDir.com is part of a portfolio of personal injury themed directories. Some of the other directories in the portfolio include http://www.caraccidentlawyerdir.com, http://www.truckaccidentlawyerdir.com and http://www.wrongfuldeathattorneydir.com