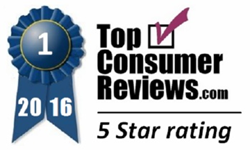 We like Lending Club's ability to help borrowers connect with lenders at very low rates, and they easily earn our highest rating for online Personal Loans in 2016.
Overland Park, KS (PRWEB) June 13, 2016
TopConsumerReviews.com recently awarded their highest five-star rating to Lending Club, an industry leader in Personal Loans.
With many people finding themselves living paycheck-to-paycheck, the need for personal loans is increasing. In the past, borrowers often found themselves caught between a rock and a hard place, asking a family member or a friend for some cash, or getting a high interest rate loan from a personal finance company. Today, however, new solutions such as social lending networks make it easier for those who need some temporary financial help to get a loan at a much lower interest rate. Prospective borrowers should carefully look at a number of factors including each company's application process, reputation, and Better Business Bureau rating, in order to choose the one that is the best fit for their needs.
"Lending Club makes it easy for the average person to get a loan of up to $40,000," explained Brian Dolezal, of TopConsumerReviews.com, LLC. "Their website is very simple to use. Customers enter basic information, such as income and date of birth, in order for Lending Club to determine the amount of the loan that will be offered and the corresponding interest rate. As a recognized leader in the social lending market, it's not surprising that Lending Club has an A rating with the Better Business Bureau while facilitating thousands of loans each month for satisfied customers. We like Lending Club's ability to help borrowers connect with lenders at the very low rates, and they easily earn our highest ranking for online Personal Loans in 2016."
To find out more about Lending Club and other online providers of Personal Loans, including reviews and comparison rankings, please visit the Personal Loans category of TopConsumerReviews.com at http://www.topconsumerreviews.com/personal-loans/.
About Lending Club
Lending Club's mission is to transform the banking system to make credit more affordable and investing more rewarding. The Company's technology platform enables it to deliver innovative solutions to borrowers and investors. Lending Club operates at a lower cost than traditional bank lending programs, enabling them to pass the savings on to borrowers in the form of lower rates and to investors in the form of solid returns. Lending Club is based in San Francisco, California.
About TopConsumerReviews.com
TopConsumerReviews.com, LLC is a leading provider of independent reviews and rankings of hundreds of consumer products and services. From Personal Loans to Credit Repair and Cash Advances, TopConsumerReviews.com delivers in-depth product evaluations in order to make purchasing decisions easier.