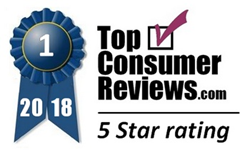 We are pleased to award LendingClub our highest rating for Personal Loans in 2018.
OVERLAND PARK, Kan. (PRWEB) August 14, 2018
TopConsumerReviews.com has awarded their highest five-star rating to LendingClub, an industry leader in Personal Loans.
Most people need a loan at some point in their lives. Especially with all of the economic challenges facing the average American, it's no surprise that Personal Loans are more necessary now than ever. However, not everyone has a well-off family member or friend that can lend a hand, or some cash. Unfortunately, predatory lenders do exist, ready to take advantage of people in need with exorbitant interest fees and extremely unfavorable repayment terms. That's why consumers need to be vigilant about who they borrow from, and understand the terms of their loan.
"LendingClub is an established service within the social lending market," explained Brian Dolezal, of TopConsumerReviews.com, LLC. "Their Personal Loans range from $1,000 to $40,000, and interest rates vary based on the borrower's credit history and other personal details. The process is simple: you just enter the amount and intended purpose of the loan, and basic information like your name and address. Once LendingClub has verified your creditworthiness and identity, you can choose from all the loan offers. The funds are transferred almost immediately once your bank account is authenticated. We are pleased to award LendingClub our highest rating for Personal Loans in 2018."
To find out more about Lending Club and other online providers of Personal Loans, including reviews and comparison rankings, please visit the Personal Loans category of TopConsumerReviews.com at https://www.topconsumerreviews.com/personal-loans/.
About LendingClub
LendingClub's mission is to transform the banking system to make credit more affordable and investing more rewarding. The Company's technology platform enables it to deliver innovative solutions to borrowers and investors. LendingClub operates at a lower cost than traditional bank lending programs, enabling them to pass the savings on to borrowers in the form of lower rates and to investors in the form of solid returns. LendingClub is based in San Francisco, California.
About TopConsumerReviews.com
TopConsumerReviews.com, LLC is a leading provider of reviews and rankings for thousands of consumer products and services. From Personal Loans to Credit Repair and Debt Relief, TopConsumerReviews.com delivers in-depth product evaluations in order to make purchasing decisions easier.