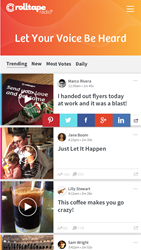 "Rolltape is one-part messaging and one-part personal podcasts — packaged in five-minute personalized audio messages," said Jessica Taylor, Rolltape's co-founder and CEO.
San Francisco, CA (PRWEB) April 21, 2016
Rolltape, a mobile messaging app for creating personalized audio messages for friends and family, unveiled its public "Rolltape Radio" feature today. The new functionality allows anyone to make and broadcast a "Rolltape" within the app as well as anywhere on the web. People can share links to "Rolltape Radio" on social networks and other web properties including Facebook timelines, Twitter feeds, blogs, websites, and online newsletters.
Now bloggers, influencers, artists, public figures, celebrities, gurus, and subject matter experts can easily expand their audience with followers and fans using an intimate and increasingly popular "personal" podcasting format. "Rolltape Radio" gives creatives a new channel to engage and interact with their audience, since followers can upvote, and comment on content. Rolltape's broadcast functionality allows audio messages to be conveniently shared with social media and webpages, turning up the volume on viewer engagement.
Fans, followers, and visitors can access Rolltape Radio with a simple click to listen to the message. Public Rolltape messages can be made for a variety of use cases from sharing a personal update, to telling a story, to performing a comedy routine, to introducing a new musical riff, to calling out a special product promotion, etc. And creators can even unpublish tapes from Rolltape Radio just in case they want to revise a message to their readers, fans or followers.
"Rolltape is one-part messaging and one-part personal podcasts — packaged in five-minute personalized audio messages," said Jessica Taylor, Rolltape's Co-founder and CEO. "Since Rolltape is positioned at the intersection of messaging and social networking, we know our users and their networks will benefit from sharing "Rolltape Radio" tapes publicly. We're delighted to offer the Rolltape community a full-spectrum of private and public communication options."
Rolltape lowers existing technology barriers, enabling anybody to quickly create and share original content with their followers, delivered in a novel podcasting format. Messaging apps recently surpassed social networks in monthly active users, fueled by their higher retention and usage rates. With the renaissance of podcasting, people are consuming more audio storytelling. According to Edison Research's The Infinite Dial 2016, 21% of Americans above age 12 (57 million people) have listened to a podcast in the past month, demonstrating 24% year-over-year growth last year.
Interested parties can download the free app from Apple's App Store here: https://itunes.apple.com/us/app/rolltape-personal-voice-messages/id994664291?ls=1&mt=8
About Rolltape
Founded in 2015, Rolltape Inc. is a female-founded mobile development startup. The privately-held company is based in San Francisco, California. Its namesake platform, Rolltape, is a free mobile app available for iOS devices in the U.S. and Canada. Rolltape lets people create user generated content by making short, five-minute audiograms to share stories from their lives, update friends and family and keep relationships stronger. Creators can personalize their messages with mood music and custom images — the perfect way to send festive, fun, memorable, and heartfelt greetings to loved ones. Interested parties can visit http://www.rolltape.com for more information about the app.
Follow or connect with Rolltape via the following channels:
Listen to a Rolltape Radio greeting: http://bit.ly/1qXJ4fo
Download Rolltape on the App Store: http://apple.co/1n2ZukI
Rolltape is now available to English speakers worldwide.
Rolltape Radio: http://rolltape.fm
Facebook: https://www.facebook.com/RolltapeApp
Twitter: @RolltapeApp
Editor's Note: Artwork available upon request.