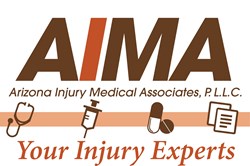 Arizona Injury Medical is now offering medical and interventional pain treatments for those needing pain relief under a personal injury claim!
Phoenix, Arizona (PRWEB) January 20, 2014
Arizona Injury Medical Associates, P.L.L.C., is now offering comprehensive pain management treatment under personal injury claims. The treatments include both medications and interventional pain management, and are provided with a Double Board Certified personal injury doctor. For more information and scheduling call (480) 347-0941.
Being involved in a motorcycle or auto accident presents a complicated set of problems to an individual such as physical and emotional injuries, negotiations with insurance companies, auto body shops and the need to obtain a personal injury lawyer.
When it comes to obtaining pain relief, Arizona IMA offers an exceptional amount of options for pain management. This includes treating whiplash, muscle strains, sprains and additional injuries.
Published studies have shown that treating individuals after motor vehicle accidents as soon as possible after the accident may prevent the acute pain from becoming chronic.
The treatment options available at Arizona IMA include oral or topical medications such as NSAIDS, muscle relaxers, neurogenic medications and opiates. Interventional treatments include trigger point injections, facet or medial branch blocks, joint injections, epidural steroid injections and more.
By offering a plethora of available options, the Double Board Certified Phoenix personal injury doctor is able to customize treatments for the best results.
In addition to personal injury treatment, Arizona IMA offers therapy for the injured worker. As a workers compensation doctor in Phoenix, Dr. Adarmes is able to frequently assist patients in getting back to work.
Arizona IMA excels at both clinical treatment along with administrative paperwork. With injury claims, having meticulous paperwork is crucial for the patient. For both personal injury claims along with both Arizona and Federal workers compensation claims, the practice provides comprehensive medical documentation.
To receive first rate personal injury medical treatment in Arizona, contact Arizona IMA for the most comprehensive therapy options at (480) 347-0941.