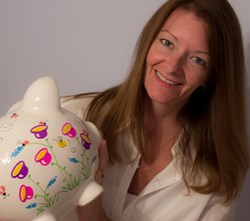 Wilmington, DE (PRWEB) August 13, 2013
MyBambino.com, maker of personalized baby gifts, has announced the shipment of their 100,000th personalized piggy bank. In business since 1992, the thriving Delaware internet retailer firm employs a team of artists to handle baby gift orders from customers across North America.
The buyer of that 100,000th personalized piggy bank additionally received a major gift card to mark the occasion, says the company.
"This was very much a niche cottage industry when I began two decades ago," says artist and chief operating officer Michele Stevens-Keen. "But as we became increasingly well-known, we found ourselves on a gratifyingly large number of media gift suggestion lists."
The result has been an entrepreneurial success story, with revenues growing in nearly every business quarter according to the firm.
Hand-painting a child's name and custom design on each piggy bank remains a labor of love for Stevens-Keen. A mother herself, she still sets aside time to escape the paperwork of running a business and return to her artistic roots.
"My team of fellow artists and I create not only personalized piggy banks but other personalized items including kid's rocking chairs, step stools, and personalized jewelry boxes for the nursery or child's room. We also personalize luggage, backpacks, lunchboxes and other key school supplies. Gift ideas for grandparents, teachers, and other adults include customized shirts and ornaments or frames hand-painted just for them," she adds.
Stevens-Keen notes that a piggy bank turns into an instant treasure once the child's name is added. "My Bambino takes personalizing a step further by offering a choice of over 100 designs, creating a gift that is one-of-a-kind, uniquely theirs—and sure to be cherished for years to come."
To view the selection of hand-painted personalized gifts available from MyBambino.com, visit their website or call toll free (800) 927-0707.