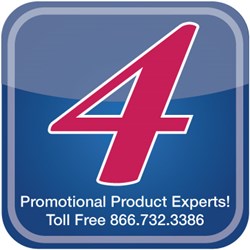 Essex, CT (PRWEB) November 12, 2013
Everything means more when it's personalized. The personalized gift industry is $30 billion industry and the holiday season is one of the most popular times to shop for personalized presents. 4AllPromos offers a large selection of personalized gifts perfect for family, friends, employees, clients and more.
The personalized gift service through 4AllPromos is unique in that each product can be imprinted with a person's name and logo. This service is great for businesses looking to give employees a special gift this holiday season. This service includes some of 4AllPromos most popular items including apparel, drinkware, desk and office accessories.
A recent study released by Land's End Business Outfitters suggests businesses are gearing up to spend more on holiday gifts for employees and customer's this year. On average a business will spend about $46 on an employees (up from $42) and $34 on a customer (up from $26). Give a gift that means something this year. Scrap the awkward holiday party and invest funds in personalized items that boost office morale and create team solidarity.
"People are looking for special gifts and items that have more meaning," said 4AllPromos President Cosmo Corigliano, "While we've been in the custom imprinted business for awhile we found it was time to make our products even more unique by personalizing them with individual names so businesses could better show their appreciation to their employees and customers."
Send employees out on the road with personalized gear this winter. 4AllPromos can personalize winter hats and sweatshirts and other items needs to keep warm while visiting customers. Personalized apparel is a great way to make employees feel valued as well as looking professional. Keep employees looking professional with a personalized padfolio or bag. All personalized items from 4AllPromos can be imprinted in full color at no additional charge. Make and employee or customer feel special with a personalized product imprinted with a name or logo.
Looking to give valued customers an extra special gift this year? Personalize something people will really use such as a mug, travel cup, high-end writing utensil, golf accessory bag or umbrella.
Personalized gifts are becoming increasingly popular as the competition grows. Unique marketplace sites and niche gift sites are popping up all over the web. 4AllPromos personalization products are low cost and high quality. 4AllPromos low price guarantee will help get the best deal on all personalized holiday promotional products. All items can be ordered in a variety of quantities, colors, sizes and materials.
4AllPromos is a leading online marketing of custom imprinted and promotional products. For more information about personalized or promotions products and gifts such as tote bags, drinkware, office supplies, apparel, toys, school spirit items, trade show giveaways and party supplies visit http://www.4allpromos.com or call 1-800-732-3386 toll-free.