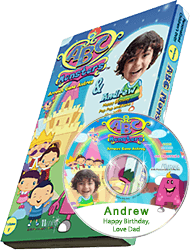 Personalized Photo DVDs immerse children into their own educational learning experience.
Monroe, NY (PRWEB) December 03, 2013
New from KD Novelties, specializing in personalized children's books and personalized children's DVDs, comes a new adventure that will send children on an alphabet quest with the ABC Monsters. Along with their new cartoon friends, Alice, Brian, and Cherry Berry, children solve alphabet related clues in order to find the missing letter A in this new adventure. Children become the star of their very own cartoon as their photo is inserted into the cartoon transforming them into their own cartoon figure and following along on this educational journey.
"When children see themselves in their very own cartoon it boosts their self-esteem and self-image and will surely captivate them, enhancing their learning experience, all while learning their alphabets," says Kim Delgado spokesperson of KD Novelties. With so many educational TV shows for children, KD Novelties has entered into the households of children by not only providing personalized books but a personalized educational touch to TV viewing.
With this new personalized photo DVD, children are not only learning their alphabets but learning essential problem solving skills as well. By seeing themselves in this personalized cartoon adventure, they can immerse themselves into the adventure and interact with their learning experience. The adventure not only gets kids excited about learning but excited about learning to read, too.
With the child's face incorporated throughout the personalized photo DVD adventure, they can watch themselves actively learning, interacting, and will learn the importance of reading. After all, they must save the letter A or else all A's will disappear from the books. Kids will learn valuable lessons as well as the value of learning and literacy.
KD Novelties has been in business for 13 years and has been promoting literacy to kids of all ages. They are family owned and operated and have an A+ ranking from the Better Business Bureau. For further information about personalized books, music, and DVDs, and the tremendous benefits they hold for children's literacy, please contact them or visit the KD Novelties website.