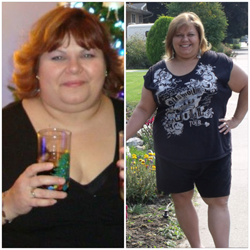 Seattle (PRWEB) May 20, 2014
Donna Ouimet was never slender, but when she was diagnosed with diabetes she knew it was time to shed some of the 322 pounds she'd put on during a lifetime spent treating herself poorly.
"I never ate, thinking it would make me thinner and that fewer calories would result in more weight loss, but starvation isn't the way to lose weight," she says. "It just confuses the body and makes it hold onto all of your fat."
The years leading up to her diagnosis had been busy, stressful ones. Donna cared for a husband on disability leave, worked two full time jobs, and survived the pain of losing her house. She neglected her health and ignored the fact that diabetes ran in her family.
"My father passed away four years before due to complications of diabetes, and my sister has diabetes, so when I was diagnosed my doctor told me it was time to get this under control."
Donna always knew she had to exercise but doubted she could find the time or motivation without help.
"I'm not a get-up-and-go-person when it comes to taking care of myself so an in-home personal trainer from Fitness on the Go was great because they come to the door and they don't accept any excuses," she said. "Making that first phone call was hard, but Jon, Kelowna personal trainer, put my mind at ease. He understood my goals and challenges and seemed to adopt my goal as his own."
Donna works with her personal trainer Toronto, Ryan Hilton, and has developed a friendship that makes it easy for her to share frustrations that could derail her training.
"I've overcome a lot of challenges in my life, from being abused to being bullied in school for being fat, so it's really nice to have a personal trainer I can talk to and have reiterate that those things people told me aren't real. They're crap."
Donna has been working with Ryan three times a week and has noticed an improvement in her balance, strength, and energy level. So far, she has dropped four sizes and a total of 89 pounds in 12 months.
From everyone at Fitness on the Go, congratulations Donna!
Fitness on the Go is an in home personal training company that currently services 8 provinces and over 30 cities in Canada. Fitness on the Go has been in operation since 2005 and has helped over 6000 customers to date achieve their fitness goals.