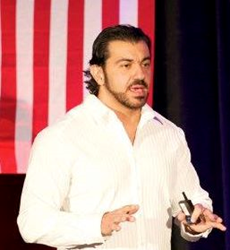 There are so many benefits to fitness professionals who develop their own fitness information products.
Chino Hills, CA (PRWEB) June 18, 2014
Bedros Keuilian is known throughout the fitness world as the fitness marketing expert to personal trainers, fitness boot camp owners and network fitness personalities. Aside from his worldwide fitness boot camp franchise, his information products are what have propelled him to such popularity among his peers. Now he's spending a great deal of his time showing others how to use their own fitness information products as personal trainer marketing tools.
"There are so many benefits to fitness professionals who develop their own fitness information products," says Keuilian. "It gets a trainer's name out into the public to a far greater degree than Facebook or local advertising. It allows trainers with expertise in specific areas to help many more people than they could ever train personally. Last, it creates a new and potentially enormous income stream for the trainer."
Keuilian is the first to admit that the income potential is one of the biggest factors in him coaching his clients and readers to create and sell info products. "I don't train people anymore. I don't run the day-to-day operations of my fitness boot camp franchise anymore. I teach personal trainers and boot camp owners to make more money," he says. "I teach them to use the best personal trainer marketing techniques, and this is hands-down the best tool there is."
But Keuilian is quick to add that the benefits to the trainers are only half the story. The benefit to their readers and clients is the other half. "I'm not recommending that every person who's certified in some way should put out an E-book or DVD. What I am suggesting is that people who have a real knowledge in fat loss, nutrition, building muscle or cooking can help others, can add real value to their lives, and make money at the same time."
Keuilian explains that while social media and email are excellent personal trainer marketing tools, fitness info products are an "evergreen" source of both income and leads. "Once you create an e-book or DVD or follow-along online workout, it can provide a steady and long-term income without you ever doing another thing to it," he explains. "It's a marketing tool in that it creates visibility and recognition for a fitness boot camp or personal trainer, but it also makes money more directly from its sales."
Keuilian adds that several of his mentoring clients have launched fitness information products recently that yielded high five-figure sales in just a few days, yet cost very little to create. Many of his readers have done the same using tips and techniques from his websites.
"I would tell any personal trainer or fitness professional that if they're going to do one new thing this year to increase their income, it should be releasing their own info products."
About Keuilian Inc.
Keuilian Inc. (est. 2007) was founded by fitness marketing and business consultant Bedros Keuilian, who has been named the "hidden genius" behind several of the biggest names in the fitness industry. In addition, he is also the founder of the popular fitness marketing blog, PTPower.com, and founder and CEO of the indoor fitness boot camp franchise, Fit Body Boot Camp.
To find out more about Bedros Keuilian and his fitness boot camp franchise, please visit http://www.ptpower.com/ and http://www.myfitbodybootcamp.com/.