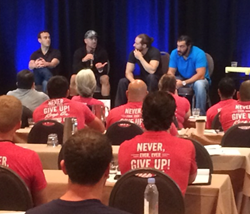 If you're doing something you love and feel very strongly about it personally, that authenticity and commitment are very apparent.
Chino Hills, CA (PRWEB) June 25, 2014
Jason Ferruggia is considered one of the foremost strength coaches in the business and a shining example of successful personal trainer marketing. He recently sat down with Bedros Keuilian, CEO of the fastest-growing fitness boot camp franchise, Fit Body Boot Camp, and a renowned fitness marketing coach, to talk about the keys to his success and why he's focusing on other endeavors. Surprisingly, they're the same thing.
During the interview, Ferruggia explained to Keuilian that the number one reason for his phenomenal success is that his focus was on satisfaction and fulfilment rather than on making a huge income.
"I was making really good money as a personal trainer, but when I started writing about training online, it was more to satisfy my own need to share what I knew and to have another way of expressing my passion for fitness," said Ferruggia. "I didn't even think about monetizing my website and blog until three or four years after I'd started."
Ferruggia explained that his love for writing had far more to do with starting a website than did any ideas of making money from it, but that his income from his online activity soon eclipsed his income as a personal trainer.
This is a perfect example of what Keuilian often teaches his coaching clients; that money follows passion and that the surest way to make money is to do what you love and share it with others. Both men have turned their passions for helping people live healthier lives into multi-million dollar businesses, both in personal training and in selling fitness information products. But as Ferruggia explained during the interview, he recently turned down a project that would have made him $150,000 in order to pursue something completely different – finding and selling the world's best coffees.
"The new coffee business is loosely related to bodybuilding, in that caffeine is a known fat burner and pre-workout aid," said Ferruggia. "But I got into it because I love coffee and I knew it would be fun and fulfilling. The same reasons I started writing and got so huge on the internet. I'm pursuing my passion and I'm fortunate that I can afford to do that now."
Ferruggia and Keuilian both agree (and frequently teach) that the goal of making money is to live a life that is more satisfying and more meaningful and that the most successful entrepreneurs are those who find a way to make money doing what they love, rather than identifying a business trend and jumping on the bandwagon purely for financial motives.
Keuilian coaches his personal trainer marketing clients on the fact that money tends to follow passion. "If you're doing something you love and feel very strongly about it personally, that authenticity and commitment are very apparent," he says. "When people sense that you really care about what you're doing and that you also care about them, they trust you enough to invest in you. If you're just in it for the money, people will see through it right away."
Ferruggia is quick to point out that he is not retiring from the fitness business, just keeping things interesting and exciting for himself as he explores other interests. This is something Keuilian understands completely, as he's let go of most of the day-to-day operations of his fitness boot camp franchise so that he can focus on his own passion: coaching other fitness professionals on marketing and selling their companies.
Both men are excellent examples of successful personal trainer marketing and the financial rewards of following their passions.
About Keuilian Inc.
Keuilian Inc. (est. 2007) was founded by fitness marketing and business consultant Bedros Keuilian, who has been named the "hidden genius" behind several of the biggest names in the fitness industry. In addition, he is also the founder of the popular fitness marketing blog, PTPower.com, and founder and CEO of the indoor fitness boot camp franchise, Fit Body Boot Camp.
To find out more about Bedros Keuilian and his fitness boot camp franchise, please visit http://www.ptpower.com/ and http://www.myfitbodybootcamp.com/.