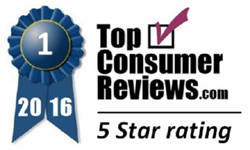 At Home Pest Control puts the power of pest control in the hands of the consumer.
Overland Park, KS (PRWEB) August 12, 2016
TopConsumerReviews.com recently gave their highest rating to At Home Pest Control, a leader among providers of Pest Control products and services.
No matter where one lives, pests are likely to be an issue. From insects to rodents and other wildlife, pest problems can quickly become an annoyance, sometimes even a threat to the health and safety of those within a home or business. There are several approaches to dealing with a pest infestation, from hiring professionals to eliminate the problem, to trying to manage it on one's own.
"At Home Pest Control puts the power of pest control in the hands of the consumer," explained Brian Dolezal, of TopConsumerReviews.com, LLC. "For people who are comfortable with the do-it-yourself approach, they will find everything they need to address their pest problem on At Home Pest Control's user-friendly website. Customers can also get useful, detailed information on how to treat specific issues, such as eliminating bedbugs from mattresses and getting rid of skunks and squirrels. At Home is our top choice for Pest Control Services."
To find out more about At Home Pest Control and other businesses providing Pest Control Services and Products, including reviews and comparison ratings, please visit the Pest Control category of TopConsumerReviews.com at http://www.topconsumerreviews.com/pest-control/.
About At Home Pest Control
At Home Pest Control is a one-stop solution for finding the products customers need to get rid of insects, rodents, nuisance wildlife, termites and more. The products they sell are the same as the ones that pest control professionals use. With years of experience in the pest control industry, At Home Pest Control has the knowledge and highest quality products available. Their company is headquartered in Lumberton, New Jersey.
About TopConsumerReviews.com
TopConsumerReviews.com, LLC is a leading provider of independent reviews and rankings of hundreds of consumer products and services. From Pest Control to Home Warranties and Pet Insurance, TopConsumerReviews.com delivers in-depth product evaluations in order to make purchasing decisions easier.